Higher User Adoption Rates Means Better Transitional Training

With what seems like never-ending updates or launches of the latest and greatest software, your organization simply can't afford to not keep up.
While companies like SAP, Workday, Microsoft Dynamics 365, and Salesforce are making changes to their offerings, your training and development team needs to constantly be thinking about the best way to develop its technology user adoption strategy and how to support teams for the best customer service and sales experience possible.
There are many factors and user adoption training options to consider when creating the ideal learning environment for new software implementation
We have helped clients worldwide to increase productivity with engaging training methods that create results-driven training sessions through a user adoption plan.
Our team of experienced contract learning professionals includes Instructional Designers, Technical Writers, eLearning Developers, Training Consultants, Contract Trainers and more.
TrainingFolks can help you to streamline processes and allow you to scale up or down as project milestones change-all within a set budget.
Which of these challenges does your organization currently face when it comes to successfully implementing new software training programs?
KEY CHALLENGES:
User acceptance of new software like Salesforce, Workday or SAP
Developing corporate training materials while software vendors are still developing
Widespread geographical locations of the audience
A large number of credible and knowledgeable trainers
Shifting implementation timelines
Does your organization require a solution to a new software implementation training?
Get the TrainingFolks Experience
We are an industry leader when it comes to technology implementations, with an impressive list of loyal top rated companies worldwide.
Our experience in supplying credible contract trainers who are able to effectively communicate and collaborate with internal teams puts clients at ease. This allows internal teams to focus their efforts an ongoing day to day operations.
When working with TrainingFolks our proven process guarantees a strong training program built from industry standards in the learning and development space.
We will help you to create the ideal learning environment by providing consulting and resources to help fill any training and development gaps on your team. This can range from strategy, design, development, and delivery.
Here are some of the areas that TrainingFolks can help your organization.
Customer Relationship Management
Point of Sale Systems
Installation & Maintenance
Contact Center
Job Aids
Coaching
Subject Matter Expertise
eLearning
Technical Support
Information Technology
Process/Product Documentation
Intranet Development
Pricing Systems
Billing and Processing
Human Resource Systems
CRM training for Salesforce and Microsoft Dynamics
SAP training
PeopleSoft training
Oracle software training
uPerform training
Customized Software Solutions
uPerform developer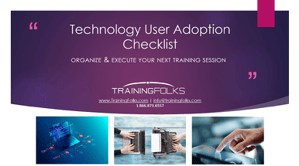 Download your free
Technology User Adoption Checklist to start organizing the corporate training process around your upcoming rollout.
Increase your user adoption across the organization providing effective employee-centric training. Providing targeted training options to the employees who will be using the new technology based on their learning style is sure to increase your rates of success.

This checklist will help you:
Organize and execute your next big technology training implementation
Design and develop your organization's delivery of technology training
Includes the key activities of implementation and break them down into six phases
Contact the corporate learning experts at TrainingFolks for assistance with increasing your user adoption rates with smoother training for new software implementation.
5 Best Practices for User Adoption Strategy and Training
Reverse the 80/20 rule
Focus the initial "go-live" training primarily on the core 20% of the functionality that the employees will use 80% of the time.
Initial training sessions should concentrate on Speed to Efficiency of the greatest usage of the system. As part of your learning strategy consider ongoing or continuous education including additional functionality.
Modality Selection
Align delivery modality to learner objectives and transfer. Instructor-led training in a hands-on lab environment is great for the "go-live" training. However, if the user will only complete a task occasionally, provide them with "How to" quick reference materials or leverage online courses and support material with microlearning.
Practice, Practice, Practice
Often we see new application training that "tells" about the system or "shows" the system (particularly in eLearning courses). In proficiency-oriented training such as software training, give the employee access to the software or a simulation environment. In fact, training is often more effective if they explore the program first, before attending the session. Remember, a key objective for the training is having the users demonstrate proficient in the training.
Train from the real world
Deliver training in a stable systems environment. An environment that mirrors the real-life environment. Creating "true-life" context, with real-world challenges, will make it easier to transfer new knowledge and skills to job duties. If an application screen is going to change after the training then training would be counterproductive to user adoption.
Don't overwhelm them
Technology training doesn't need to be complicated. However, for many employees learning a new system can be overwhelming. A few ideas to mitigate that feeling and increase adoption would keep them informed of the rollout progress, find your champions, link the training to your business processes, maintain communication and collaboration and celebrate and reward their success, and keep in mind the KISS Principal.
Talk to us about all aspects of your upcoming new technology rollout training needs. We can assist with training needs analysis all the way through to delivery.
From training needs analysis, to design to development and delivery we can help ensure optimal user adoption strategy and training with our proven methodology to successful change for all of your employee development needs.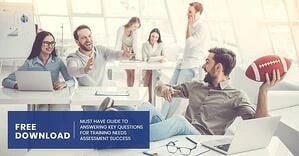 Download your free Training Needs Assessment Checklist your free guide to asking the right questions for your upcoming training needs analysis.
I wholly recommend TrainingFolks. They are experts at what they do and they are great people.

Frank Ramirez, Learning and Development Manager, United Auto Credit