Course:
How to Write Effective Assessments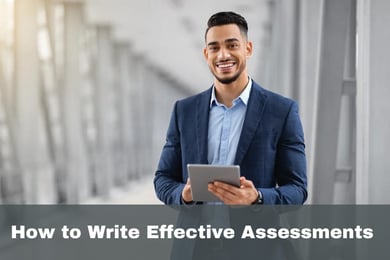 Format: eLearning
Audience: Corporate Training Professionals
Course Length: 45 minutes

COURSE SUMMARY
Quizzes, tests, exams, knowledge checks, challenges ... by any name, assessments have been the cause of too many "bitten nails" and "chewed pencils"! Indeed, assessments (or "testing" if we are blatant about it) are inevitable, but too often dreaded, part of learning.... not only for the student or participant but for the instructional designers and trainers as well... Yes...there's plenty of "test anxiety" to go around!
But, that's about to change... With this how to write effective assessments course... you can develop effective assessments that appropriately measure performance, build confidence all around, and make a positive impact on the business!
COURSE CONTENT
The Value of Assessments

—quickly addresses how assessments are

used along with an introduction to the three phases of assessment

development.

Planning Your Assessments

—the first step in the development process is

about gathering the requirements and information you need.

Writing Your Assessments

—the second step, details what works and

what doesn't when it comes to writing assessments.

Monitoring Your Assessments

—the third step briefly reviews how to

make sure your assessments stay on target.

Summary and Challenge

—where we will wrap up key points and offer

you an opportunity to confirm your knowledge
COURSE OBJECTIVES
Identify how assessments are used.

Plan the development of assessments.

Write knowledge-

based and performance

-based assessments.
COURSE OBJECTIVES
By completing/passing this course, you will attain a TrainingFolks Certificate