Experienced Executives to Lead Your Learning Teams
Did you know executive turnover can cost you over half a million?!
TrainingFolks Executive Search Group is the premiere placement service specializing in the training and development industry.
The key to our success in finding the best senior-level candidates is our ability to truly understand the needs of our clients – the role, qualifications, and company culture.
Stop bleeding time, money, and energy relentlessly searching for the right executive candidate with the specific training industry experience you need.
It's time to speak to someone at TrainingFolks about our Executive Search and Placement Services to ensure you make the right hire–the first time!
Our singular focus in the corporate training industry enables our Learning and Recruitment Specialists to effectively build executive searches that are tailored to your corporate culture and unique requirements. Even passive candidates are targeted so you get the best of the best.
Why is TrainingFolks the Executive Search Consulting Firm For You?
Over 20 years of corporate learning industry experience.
Proven recruitment expertise with a team of Senior Learning Advisors and Learning and Recruitment Specialists.
Access to our network of over 30,000 corporate learning and development professionals.
Experience our established 6-step process to successfully placing your Best-Fit executive.
A dedicated team focused on filling your hiring needs quickly while maintaining the confidentiality of your role details.
Your search stops here. Let our experienced team find the Best-Fit corporate learning and development professional for your organizational needs.
Contact an Executive Search and Placement specialist today.
Impacts of a Poor Executive Search Hire
Finding the right executive candidate is easier said than done and the cost of recruiting the wrong executive into your organization can have major impacts across the board.
The hiring manager's reputation and confidence can be negatively affected.
Overall productivity can plummet with poor leadership or a mismatch of culture.
Negative press to clients, employees, and the external marketplace.
Effects of decisions made by the hire during their time with the organization.
The most tangible impact, however, is the dollar-for-dollar cost.
Research shows that organizations spend up to 2.5 times the hire's salary if they depart in the first six months!
Find the ideal learning leader for your current executive role for the first time with the right executive search firm.
5 Reasons to Work with an External Executive Search and Placement Partner
Working with a top executive search firm like TrainingFolks can bring significant benefits to your learning department and organization.
Access to Quality Network of Professionals
When you're trying to fill a high-profile position, the hardest part is finding a strong pool of potential candidates to talk to. Job sites and LinkedIn will help but only take you as far as the applications you receive. Working with TrainingFolks increases your pool of talent giving you access to a much larger number of professionals that meet the criteria for the job.
Maintain Relationships with Stakeholders
Headhunting is a huge benefit that an executive search partner can offer and something you may not be comfortable doing internally. Our recruitment team can approach star players in the industry that you may not want to contact internally.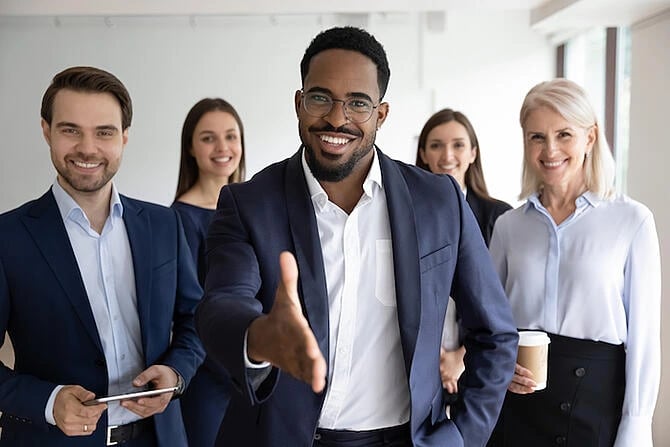 Screening Process
As a leading corporate training company with over 20 years of experience, our team knows what to look for in industry-leading resumes. Hard skills, soft skills as well as strong communication and presentation skills are all part of the screening process. Once they have a pool in mind, they take the time to perfect their profiles as well as to conduct preliminary screening calls and interviews. What you're presented with at the end are truly Best-Fit matches to consider moving through your internal process.
Maintain Discretion
Depending on the role that you're filling, you may not want to broadcast it in the general marketplace. In addition, if you don't want to let the internal team know that there may be a shift in leadership then maintaining discretion as you perform your executive search is paramount. Control who knows about your search requirements when working with TrainingFolks.
Reduce Bias
With a high-profile position like VP or Director, there may be an internal bias that may affect the process of internally sourcing the right candidate. Working with a partner ensures an unbiased group of Best-Fit individuals.
Learn more about the benefits of working with an experienced executive search team with the expertise to find the right corporate training professional candidate.