Course: Introduction to
Adult Learning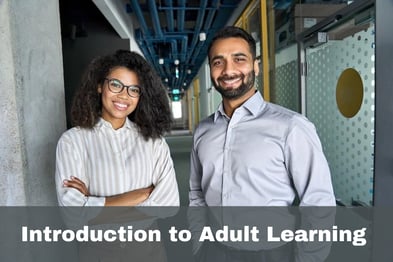 Format: eLearning
Audience: Corporate Training Professionals
Course Length: 45 minutes
COURSE SUMMARY
When it comes to helping adults learn, what do you think works best...traditional classroom techniques, or something more personal and relevant? Adults bring a wealth of life experiences to their learning situations, as well as strong opinions and attitudes toward learning. If the differences between adult and other learners are not addressed, the learning experience will be far from optimum. This introduction to adult learning course helps you learn about those key differences and how to design and deliver effective learning experiences.
COURSE CONTENT
What is adult learning —we define adult learning and give you a little bit

of history as to how it came about. We also give you the lowdown on the

four different types of learning.

Characteristics of Adult Learners

—we discuss what makes an adult

learner different from other types of learners and show you the conditions

that need to be in place for adults to learn effectively.

Implications for Instructional Design —we give you tools and techniques

to apply what you've learned to design great instruction for adult learners.

Summary and Assessment

—we wrap up and give you a chance to

demonstrate your knowledge
COURSE OBJECTIVES
Define adult learning.

Describe key characteristics and assumptions about how adults learn.

Based on how adults learn effectively, explain the implications for designing

instruction.
By completing/passing this course, you will attain a TrainingFolks Certificate