Aligning Learning Processes and Training Systems Requires a Strong Business Analyst
The Business Analyst is responsible for utilizing tasks and techniques to analyze, engineer or re-engineer an organization's processes and systems to align with its business objectives.
This requires various levels of specialization and work at all levels within an organization to identify goals, define strategy, gather requirements, and analyze information to support continuous improvement.
If you are unsure of the level of business analysis support you need please contact us!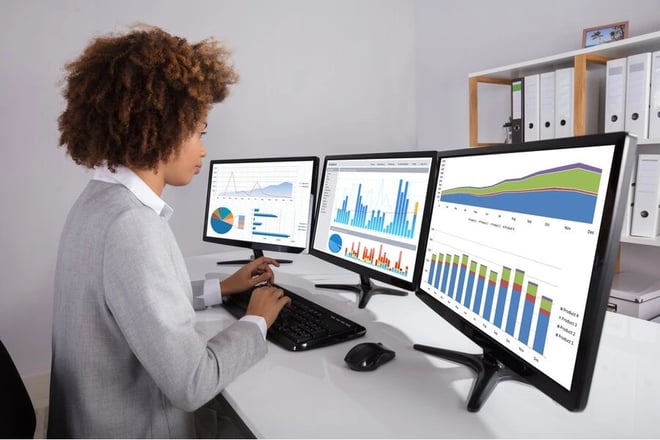 Business Analyst: Level I
Responsibilities:
Works with frontline, mid-level stakeholders to gather business requirements and data for a specific business initiative.
Validates data, and provides basic explanations of data findings and statistical trends.
Provides general project support and analytical support.
Effectively communicates, collaborates, and builds rapport with team members.
Conducts testing and quality assurance tasks.
Utilizes tools, templates, and business methodologies and develops tools as required.
Completes routine assignments as required.
Experience:
Minimal client industry or line of business experience
Minimal knowledge of the subject matter
College or undergraduate degree
Less than 3 years of experience as an analyst
Proficiency using Microsoft Office Suite
Business Analyst: Level 2
Responsibilities:
Interacts with business stakeholders to understand the process and needs of the business.
Works with all levels of stakeholders to gather multiple business requirements and data for review by senior leaders.
Reviews and analyzes data to identify statistical trends, and problems and proposes solutions aligned with business objectives.
Identifies and works with stakeholders to resolve issues of low to medium complexity.
May lead or direct the work of other resources.
Reviews test plans and create test scenarios.
Develops methodologies, tools, and templates.
Experience:
Some client industry or line of business experience
Familiar knowledge of the subject matter
University Degree
Formal business analyst training
3-7 years of experience in a variety of industries
Advanced level Microsoft Office Suite user
Business Analyst: Level 3
Responsibilities:
Leads business on initiatives to understand the current state and identify future needs and opportunities.
Manages relationships with executives and senior-level stakeholders to understand the business process and the needs of the organization.
Interacts with senior executives, presents solutions, and identifies initiatives to align with business objectives.
Facilitates the iterative refinement of the business requirements and prepares and delivers presentations of findings and solutions to senior management.
Evaluates the impact of a solution on business needs and develops detailed plans and accurate cost estimates.
Identifies issues and works with senior management, stakeholders, and vendors to resolve conflicts.
Leads and directs the work of others.
Recognized as an expert.
Experience:
Senior-level client industry or line of business experience
University Degree (Masters Level)
Formal business analyst training
CBAP or CBATL level certification
Over 7 years of experience in a specific industry
Expert-level Microsoft Office Suite user