Customized eLearning that engages your employees!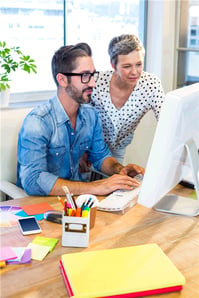 TrainingFolks eLearning team will create engaging modules that will meet your organization's training needs.
To ensure that our customized eLearning services are aligned with your learning objectives and business goals, our team will provide expert assistance during all phases of the eLearning development process.
To learn more about our customized eLearning services please visit the links below:
Working with TrainingFolks is always a pleasure. Their team has helped us provide customers with interactive eLearning content that surpasses any competitive offering. Their content has transformed the way we engage our users and is leaving them well informed and satisfied. All we can ask for is more!

- Josh Miller, eLearning Expert, Agilent Technologies