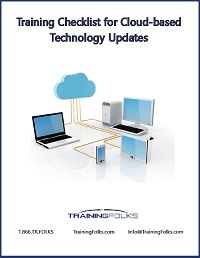 Unplanned updates for cloud-based technology can happen at any time. If you're not ready, employees may not be able to make optimal use of new features and functionality which can lead to loss of productivity. Be ready for updates before they happen!
This checklist can help you:
Identify the points you need to consider when planning the training
Discover why each of these elements is important
Learn why custom eLearning is an effective way to quickly and easily deliver the appropriate training
Download your checklist now!