Is Employee Onboarding the Same as Training a New Hire?
The right onboarding program will improve retention, productivity, and morale. But how do you effectively create, develop, deliver and improve your organization's onboarding training experience?
The first step is differentiating between employee onboarding and training and development.
Onboarding new employees or new-to-role employees helps adjust them to the social and performance aspects of their jobs so they can quickly become productive, contributing team members.
Employee training and development addresses many aspects of workplace learning. These can include specific knowledge, skills, or behaviors required to meet job performance expectations. Training programs also prepare employees for future requirements.
At TrainingFolks, we help our clients develop an engaging employee onboarding experience that complements employee training and development.


A study by Gallup found that only 12% of employees strongly agree that their organization does a great job onboarding new hires.1 There is definite room for improvement!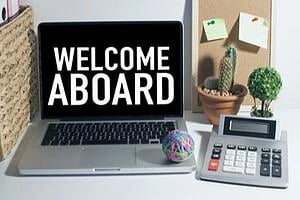 Your employee onboarding program should include more than just filling out forms in HR, setting up a laptop and phone, and meeting colleagues.

To be most effective, it introduces new employees to the company, communicates the corporate vision, and demonstrates they are a valued member of the team. Onboarding can begin before the employee's start date and carry on through the first month and even the first year.

Successfully onboarding new hires can mean the difference between retaining loyal and high-performing talent or losing your best people within a matter of months.
An effective new hire onboarding strategy can:
Increase employee engagement
Create a positive employee experience for new employees or employees in new roles within the organization
Reassure employees that they've made the right career choice
Provide a clear understanding of the strategic direction of the company and how they'll be able to contribute
How Effective Is Your Employee Onboarding Process
Is your organization currently dealing with any of these issues?
A high rate of staff turnover within the first 90 days of employment

Up to half of your senior hires fail to meet performance expectations by their second year in their new position.

A less than satisfactory rating on your employee surveys about their experience with your employee onboarding process

Higher costs attributed to replacing lost employees
You could need a new robust partner to help create an effective new hire onboarding strategy for your organization.
The TrainingFolks' Experience
As a leading corporate training services company, TrainingFolks will work with your organization to create the best new hire experiences. Our experienced team will develop the right training plan which involves:
Strategically aligning organizational objectives, goals, and cultural norms with the experience of the onboarding program.


Designing all required onboarding knowledge, skills, and behaviors into systematic learning objectives, with set conditions, timelines, and performance standards to determine "what" information is appropriate to be learned "when".


Creating a multi-faceted, modulated approach that can include blended learning arrangements combining e-Learning programs, scheduled face-to-face classroom training, coaching sessions, or mentoring on a timely basis.
Creative employee onboarding processes take employees from feeling overwhelmed to excited about their new role.
Get in touch with TrainingFolks today to begin assessing your current onboarding program.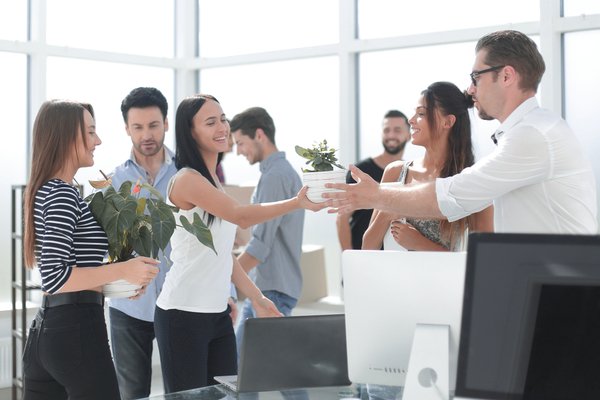 Employee onboarding best practices continue to be a hot topic for companies, especially now with turnover being so high amongst the Millennial generation.
When looking at onboarding, consider more than simply welcoming the new hire and sitting them down to complete lackluster compliance training or a dated onboarding course.
Socialization is a large part of making them feel welcome and part of the team. Orientation is important for them to understand where they are and where they can access things that they may need, including things like the bathroom!
Understanding expectations and goals for their new role and team will help set them up for success.
Download our free eBook entitled Employee Onboarding Checklist which lays out additional critical factors to consider or contact our team for more.
Onboarding After Maternity or Parental Leave
Depending on your organization's policies some or all the following are great ways to offer the same to your returning employees.
Remote work
Flex-time
4-day work week
Job sharing
Other benefits of their onboarding addressed things like establishing a clear 30-60-90 day outline for goals, re-training on procedures, and setting up regular meetings with leaders and relevant team members to help your returning employee get back up to speed.
If your company doesn't currently have an employee onboarding system for new parents, it may be time to start.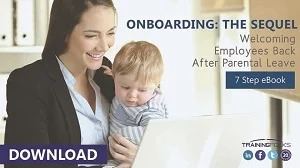 Download Onboarding: The Sequel. Welcoming Employees Back After Parental Leave
Learn more about the nuances of re-onboarding and set your employees up for success.

Using Technology to Improve Onboarding
As more organizations are recognizing the benefits of a solid employee onboarding program -- greater employee engagement and productivity, improved retention rates, and reduced turnover -- they are investing in enhancements to their internal process.
One-way companies can improve the onboarding process is by using technology.
Here are five reasons why.
A more productive day one
Your employees' first day is usually spent with an HR professional, filling out forms and completing paperwork. By implementing a technology solution in the onboarding process, new hires can finish the administrative aspects of joining the company online before their start date, freeing up the first day for more productive activities.
Ensures consistency
By creating a structured online onboarding program, companies can control the accuracy of the materials and ensure all employees are receiving consistent information.
Greater flexibility
Putting everyone through the same onboarding is not an efficient use of time. Onboarding technology can allow new employees to spend as much or as little time on the areas as they need to, based on their knowledge and skill level.
Improved reporting
Using technology can make it easier to report on onboarding results. This can identify where changes need to be made in the program, helping the learning and development and management make decisions on areas for improvement.
Better use of Human Resources
Technology can automate some of the manual processes such as assigning courses, sending reminders, and following up to ensure completion, leaving them more time for tasks that offer greater value.
Avoid onboarding mistakes from day one with this helpful employee onboarding tool.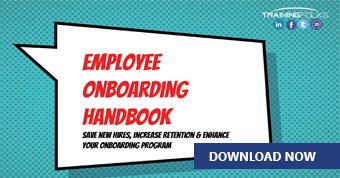 Download the Employee Onboarding Handbook: Save New Hires today and update or creates an effective employee onboarding plan for your organization. As a bonus, you can also download a handy new employee onboarding checklist.
If the onboarding process in your organization varies by department and new employees are not receiving a consistent introduction to your company, your Learning Management System (LMS) can help formalize this process.
Is it Time to Invest in Employee Onboarding Software?
7 Great Reasons to Leverage Your Learning Management System for Onboarding
Standardize your onboarding program
Evaluate skills and knowledge
Create learning paths
Inform don't overwhelm
Access information on-demand
Track certifications
Reporting for HR and managers
The reporting features of an LMS streamline what would otherwise be a manual process.
If you need further assistance with your employee onboarding program contact TrainingFolks today.