ILT (Instructor Led Training) Conversion
Conversion of Instructor Led Training (ILT) to standards-compliant eLearning or Web Based Training
(WBT) allows for more timely training, maximum flexibility and greater reach, while reducing maintenance and travel costs.
We will storyboard your existing ILT workshop and develop an eLearning module utilizing our rapid development process. We will ensure compliance to the following standards SCORM, AICC and/or xAPI (Tin Can).
Our experienced team of instructional technologists and eLearning developers will enhance the instructional effectiveness of your training material by using a variety of authoring tools and rich media. Our creative graphic designers and web specialists will then breathe life into the course by using appealing graphics and engaging interactivities.
Let us transform your instructional manuals, participant guides, job aids, presentation slides, marketing brochures and flipcharts to interactive eLearning.
eLearning Conversions
Adobe Flash to HTML5 Conversion-Will Your Organization Be Ready?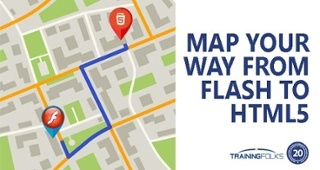 Adobe Flash has been a popular tool for eLearning developers for decades meaning that many or all your eLearning courses currently contain Flash components.
With the growing capabilities of HTML5 to support multimedia and graphical content, Adobe will be phasing out Flash by 2020.
What does this mean for your Flash eLearning courses? Once the phase-out occurs, all these courses may become obsolete.
It's time to plan for the Flash to HTML5 conversion of your legacy eLearning and development courses.
Decisions need to be made:
Do these courses require a straight HTML5 conversion?
Does the content need to be refreshed which will require instructional designers and SMEs?
Is it time to terminate this legacy course?
Plus, you need to consider budgets and timelines to ensure completion and testing before the 2020 phase out deadline.
There are many aspects to the successful migration of your eLearning content which include:
Needs Assessment
A TrainingFolks expert can help build a comprehensive needs assessment including key dates, budgets and HTML5 eLearning authoring tools best suited for your organization's eLearning strategy.
LMS
If your current LMS does not support HTML5 content, TrainingFolks has a robust solution to house all your content for a dynamic user experience.
eLearning Conversion
TrainingFolks has a team of experts that can ensure efficient and seamless conversions well before deadline.
Instructional Design
As you work through your content inventory, you may find certain courses require an overhaul, more than a simple conversion. TrainingFolks can assist with skilled and experienced eLearning instructional designers who can build out new HTML5 eLearning courses based on your specific objectives.
Get in touch today to start planning your migration from Adobe Flash to HTML5.
"Working with Training Folks is always a pleasure. Their team has helped us provide customers with interactive eLearning content that surpasses any competitive offering. Their content has transformed the way we engage our users and is leaving them well informed and satisfied. All we can ask for is more!"
Josh Miller, eLearning Expert, Agilent Technologies