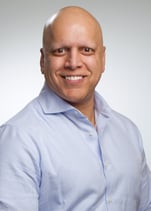 As President and Co-Founder, Saqib works with the Executive Team to ensure the company's talent and business processes are aligned to its growth strategy and global capabilities.
Saqib actively manages key client relationships and also presides over the financial, operational and service delivery aspects of the business to ensure our customers, consultants and strategic partners receive the highest level of support from a trusted business partner for their ongoing learning needs.
Since co-founding the company in 1997, Saqib has helped expand TrainingFolks from a local provider to an international organization with offices in the United States, and Canada serving customers across the world.
Saqib is passionate about ensuring that solutions are rapidly deployed, have high-impact and directly address a client's unique requirements for implementing important change initiatives.
Prior to co-founding TrainingFolks, Saqib spearheaded the technical education division of a major computer products distributor. His passion, however, has always been entrepreneurial in nature, including several earlier start-ups in apparel sales, import and export, and an online recruitment business.
Saqib holds a Bachelor of Commerce degree in Marketing and International Business from McGill University and a certificate in Adult Education from the University of Toronto.