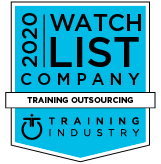 Announcing the 2020 Training Industry Top Training Companies Lists: Training Outsourcing
We're very pleased to announce that we have been selected by Training Industry as a
Training Outsourcing Watch List Company for 2020!
This is a great achievement for us, and is testament to the hard work and effort of the TrainingFolks Team.
RALEIGH, N.C.—May28, 2020— Training Industry today announced its selections for the 2020 Top Training Companies™ lists for the training outsourcing sector of the learning and development market. Training Industry, the leading research and information resource for corporate learning leaders, prepares the Training Industry Top 20 report on critical sectors of the corporate training marketplace to better inform professionals about the best and most innovative providers of training services and technologies.
Read More