How to Create Effective eLearning Courses: 9 Tips
According to a 2022 survey by My Learning Hub, almost 3 out of 4 businesses were forced to find new learning and development (L&D) tools during the pandemic. As workers transitioned to home offices and L&D budgets stagnated, companies replaced traditional training resources with new tools—ones that would adapt to remote environments and enable more efficient course development. Enter: eLearning.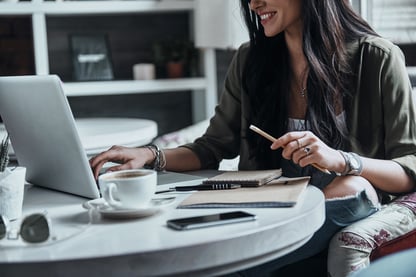 eLearning is an L&D approach that uses digital platforms to deliver courses. This methodology is often more flexible and accessible to dispersed workforces. With eLearning, managers can easily track learner performance. Advanced features like gamification and artificial intelligence are also helping personalize learning experiences and improve engagement and knowledge retention.

In 2022, 60% of organizations plan to fund eLearning development. Even though the height of the pandemic is over, eLearning endures as a flexible training solution that can help your organization prepare for change, attract and retain employees, and increase your bottom line.
If you're including eLearning as part of your L&D budget, here's how to create effective eLearning courses.


How to create effective eLearning courses
1. Conduct a training needs assessment
Training needs assessment evaluates your organization's performance targets and identifies the skills needed to meet those goals. Training needs assessments to use surveys, interviews, focus groups, and performance data to develop effective L&D programs that address real learner requirements and skills gaps. Investing in an assessment can increase the ROI of your eLearning program and make it easier to plan course content.
Instructional Design in Adult Learning and eLearning
In the context of adult learning and eLearning, instructional design strategies involve identifying the learning goals and objectives, assessing the needs and characteristics of the learners, and choosing appropriate methods and materials for delivering the instruction. These strategies may involve the use of technologies, such as video, multimedia, simulations, and online learning platforms, to facilitate the learning process. The overall goal of instructional design in adult learning and eLearning is to create engaging and effective learning experiences that enable adult learners to acquire the knowledge and skills they need to meet their personal and professional goals.


2. Create a comprehensive plan
Your eLearning development will probably go more smoothly if you have a clear roadmap. Use the information gathered in a training needs assessment to design eLearning courses that closely align with learner needs and business goals. Subject matter experts in the learning topic can also help you create an eLearning plan that supports desired to learn outcomes and competencies.
3. Develop activities around learning styles
If you assess your learners' training needs effectively, you will likely understand their preferred learning styles. There are likely multiple different learning styles in a learner group, so develop an eLearning course that touches on each one.

There are different theories and models that describe the different learning styles of adults. One of the most recognized models is the VARK model, which identifies four different learning styles:
Visual: Learners prefer to learn through seeing and observing, and may benefit from the use of charts, diagrams, and other visual aids.

Auditory: These learners prefer to learn through hearing and listening, and may benefit from lectures, discussions, and other audio-based materials.

Reading/writing: These learners prefer to learn through reading and writing, and may benefit from textbooks, articles, and other written materials.

Kinesthetic: These learners prefer to learn through hands-on experiences, and may benefit from activities, simulations, and other interactive methods.
It's important to note that most adults have a combination of learning styles, and may benefit from a variety of different teaching methods. Some adults may have a preferred learning style, but may still be able to learn effectively using other methods.
4. Help learners apply new knowledge
How are learners going to use new knowledge once they've completed the eLearning course? Features like simulations, games, or case studies can help learners integrate and retain new competencies by applying them to a real-world context.
5. Design bite-sized modules
More organizations are delivering training through Microlearning sessions. Microlearning is a training approach that teaches learners in bite-sized chunks rather than longer sessions. This is more flexible and less overwhelming than absorbing large volumes of new information. Offering microlearning modules throughout the workday can also help learners improve knowledge retention and apply new skills to everyday tasks.
6. Integrate assessments throughout the course
Another way to increase retention is to integrate multiple assessments throughout the eLearning course. Rather than presenting a long assessment at the end of the course, a "little and often" strategy keeps learners more engaged and recaps new concepts regularly. This approach also enables managers to keep track of learner progress, and learners may be more incentivized if they can see their own progress in real-time.
Knowledge checks are a type of evaluation used to assess learners' understanding of the material as they progress through a course or program. In adult learning, knowledge checks can take many forms, including quizzes, tests, questions posed by the instructor, or group discussions. They can be used to identify areas where learners need support or clarification, and can help to ensure that learners are retaining and understanding the material being presented.
There are several benefits to using knowledge checks in adult learning, including:
They allow learners to track their own progress and identify areas where they need to focus more attention.

They provide opportunities for learners to ask questions and clarify misunderstandings.

They can be used to adjust the pace and content of the course or program based on the needs and abilities of the learners.

They can be used to motivate learners and encourage them to stay engaged with the material.
7. Ensure device compatibility
One of the key benefits of eLearning is that it allows users to access L&D from any time or location at their convenience. Some learners may be accessing your eLearning course from a phone or tablet, so it's important to make sure that the course is compatible with the approved devices before building.
8. Consider hiring an outside expert
With the rapid rise of eLearning development, your internal L&D department might be tasked with other projects or work and may not have time to build all of the company's training courses. If this sounds familiar, it's often more beneficial to contract an external expert, such as a contract instructional technologist. These professionals specialize in developing eLearning courses based on thorough training needs assessments, and they often have access to development tools, processes, and resources that enable them to complete the project.
9. Measure the course's success
Developing an effective eLearning course doesn't end once it's ready for learners. As part of your eLearning development strategy, plan how to measure the course's success and ROI. This may involve reviewing course results, interviewing learners for feedback, measuring learner performance against your goals or KPIs, and monitoring employee turnover.
In summary
If your organization is adapting to more flexible, remote-friendly work environments, it's likely investing in eLearning as an alternative to instructor-led and in-person training. To create an effective eLearning course, ensure that you build course content around learner requirements and design features that increase employee engagement and retention based on their learning styles. If you've already struggled to meet your learning targets with eLearning, reconsider how you're evaluating course success.
If you found this blog helpful and want to learn more,
be sure to download our FREE eBook:
How to use Microlearning in eLearning
Download now!