Best Training Companies | TrainingFolks Receives Horizon Award
TrainingFolks Wins at the 20th Annual Horizon Interactive Awards Competition!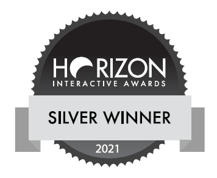 TrainingFolks is a leading global corporate training and development company committed to providing learning solutions, consulting and contingent workforce services to help clients address key business challenges.

Indianapolis, IN USA – March 14, 2021
The Horizon Interactive Awards, a leading international interactive media awards competition, has announced the 2021 award winners to highlight this year's "best of the best" in interactive media production.
TrainingFolks was recognized for their excellence with:

Silver award for the Websites - Training / eLearning Category,
in: A GUIDE TO FOOD SAFETY FOR NON-PROFITS - Second Harvest

AND

Bronze award for Video - Motion Graphics / Effects Category,
in: TRAININGFOLKS LMS – LEARNING MANAGEMENT SYSTEM


"For more than two decades as a global provider of training services, we are proud to have served our customers and communities,"
said Matt Davis, Chief Executive Officer, and Co-Founder, TrainingFolks.

"These acknowledgments from Horizon Interactive Awards is a compliment and motivation for us to continue serving in this manner".

The 20th Anniversary of the competition saw over 700 entries from around the world including 26 out of 50 US States and 21 other countries including, Australia, Belgium Canada, Columbia, Denmark, Germany, Greece, Hong Kong, India, Ireland, Japan, Philippines, Russia, Singapore, Sri Lanka, Switzerland, Taiwan, Turkey, Ukraine, United Arab Emirates, and the UK.

An international panel of judges, consisting of industry professionals with diverse backgrounds evaluated nearly 60 categories spanning multiple media types including websites, mobile applications, print media, interactive displays, public exhibits, online advertising, video, email, and more. The 2021 winning entries showcase the industry's best interactive media solutions from some of the top agencies, designers, producers, and developers all over the globe.

"The 20th annual competition was a special milestone for the Horizon Interactive Awards. It marks two decades of hard work to fulfill our mission of recognizing excellence in interactive media production. The winners in the competition this year have proved that, despite continued challenges around the globe, there are no limits to how technology and digital media play an integral role in connecting services, products, ideas, and experiences to people of all walks of life in new and impactful ways,"
said Mike Sauce, Founder of the Horizon Interactive Awards.
"The winners of the 20th annual competition truly represent excellence in interactive media production and they all should be extremely proud of the work that they produce."

The Horizon Interactive Awards holds the competition each year with the winners being announced the following April. For more information visit the Horizon Interactive Awards online: www.horizoninteractiveawards.com

About the Horizon Interactive Awards
In its 20th year, the Horizon Interactive Awards was created to recognize excellence in interactive media production worldwide. Since 2001, the competition has received tens of thousands of entries from nearly 50 countries around the world and nearly all 50 US States. Each year, those entries are narrowed down to the "best of the best" to be recognized and promoted on an international stage for their excellence. The judging process involves a blend of the Horizon Interactive Awards advisory panel and a rotating panel of volunteer judges consisting of respected and engaged industry professionals. Winning entries have been dubbed the "best of the best" in the interactive media industry.


Who We Are
Global Scalability
TrainingFolks' ability to meet enterprise-wide learning initiatives, while complementing our clients' internal team's resources, gives our clients the global talent they need while removing the logistical issues and constraints for implementation. This enables our clients to focus on other key business drivers.
Performance Consulting Expertise
Clients depend on TrainingFolks to align learning strategies to job performance that will improve business results. With over 1,000 successful projects completed, we have the experience to create high-impact learning.
Flexibility and Adaptability
TrainingFolks' ability to work within our clients' unique processes and systems allow for ease of engagement. When priorities or needs change - as they often do - we have been able to modify our approach to address the new set of circumstances.
Industry and Subject Matter Experience
Understanding the key business drivers within our clients' industry is critical for all projects that TrainingFolks is involved in. Our professionals have this experience to enable rapid project execution.
Customer Satisfaction
Our dedication and level of service have earned us a +62 client NPS score indicating the willingness of our clients to recommend TrainingFolks' products and services to others.
Ready to get started with training, but not sure where to begin?
Get our eBook FREE Download:
'6 Phases of a Training Needs Assessment'