How to Create Effective eLearning Courses
What exactly is eLearning? Simply put eLearning is a system of formalized teaching using digital or electronic resources. This is an excellent option for corporations that have employees with unique training needs. eLearning works particularly well when companies want to aggregate training materials into one easily accessible location where employees can conveniently access them. Let us look at five foundational principles for developing effective customized eLearning.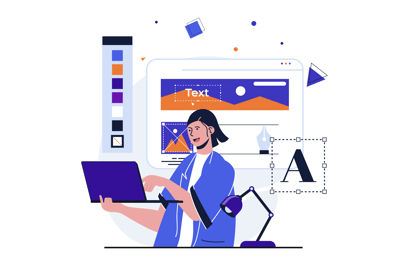 Know your audience
A solid understanding of who the training is for is the first development principle towards a well-crafted custom eLearning solution. This allows the eLearning designer to tailor their approach and create an effective, enjoyable learning experience. This is the foundation of good eLearning because this helps determine what learners know and what they still need to learn. It also helps determine any learning barriers, resistance, and inaccuracies in previous learning. Once the Instructional Technologist thoroughly analyzes the learner the designer can use this information to begin developing learning objectives.
Develop solid learning objectives
Effective eLearning will have an end goal and objectives that will help learners reach that goal. These objectives are a fundamental planning tool used by designers to create useful learning experiences. Good learning objectives will define what the learner should be able to do by the end of the training.
Typically, unit-level objectives align with and support an overall course objective. This type of constructive alignment between course and unit objectives guides learners along their learning journey. A variety of learning activities in your eLearning course can support these learning objectives.
Learning activities
The type of learning activity is dependent on the learning objective. Some objectives work well with interactive game activities, while other objectives require discussion or peer collaboration. It really depends on the learning objective. Learning material presentation tools can include live online lectures, videos, and reading materials. Tools that facilitate learner engagement and activity include peer reviews, wikis, word clouds, live workshops, and discussion forums.
If it is necessary that learners engage with facilitators you might choose to utilize video calls, live workshops, or personalized assessment feedback. Interactivity is an engaging feature of eLearning supported by various tools such as journals, quizzes, polls, scenario-based learning, interactive elements, and interactive video. The right mix of these activities can develop into an effective eLearning course using eLearning authoring tools.
eLearning authoring tools
Meaningful learning experiences use a variety of eLearning authoring tools that will enhance the instructional effectiveness of your training material. Authoring tools allow the eLearning developer to create digital content and can range from a simple Google Doc to a software program that allows the learner to interact with multimedia objects.
Using authoring tools allows for personalized content and enables collaboration among the design team, subject matter experts, and stakeholders, which produces better eLearning courses. Learner assessments directly reflect the quality of the eLearning course, which many corporate learning departments and eLearning development companies strive to accomplish.
Assessments: Not just the final test
Learner assessment can be a tool used throughout the eLearning course to assess for learning, not just final assessments of learning at the end of a course. Instructional technologists use formative assessments throughout a course to check learner progress and as an opportunity to provide valuable feedback.
Formative assessments serve as a type of learning material because they are typically informal activities that provide feedback and allow learners to adjust their knowledge levels. Summative assessments evaluate whether a learner has mastered a learning objective and if they are ready to progress in the course, or at the end of the course to determine if they have met the overall course learning objective.

Ready to get started with eLearning but not sure where to begin?
Get our FREE DOWNLOAD: "eLearning Best Practices Checklist"