Elevate Your Adobe Connect Online Classroom: Contract Virtual Producers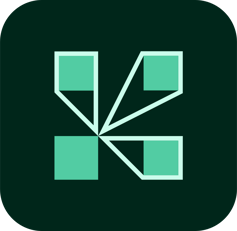 Whether your virtual training is for onboarding, implementation of new technology or training intended to educate or clarify necessary content for attendees, virtual training in Adobe Connect online classroom can be a fantastic way to educate your team.


Looking to hire the right Contract Virtual Producer for your training, but not sure where to begin?
Get our FREE Infographic Download on the Responsibilities of an Virtual Producer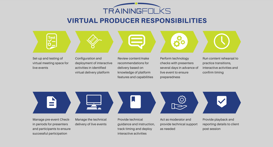 One of the biggest challenges businesses face is creating a training program that will keep everyone engaged. With strategic planning, you can elevate your virtual training to increase learning and engagement, but do you know where to start?
Plan for Success: Create a Detailed Plan
Developing a specific plan for an event is crucial to a successful and smooth training session, but planning requires creating more than just a loose overview of the topics to be covered. This plan should include a detailed schedule of every stage of the training session to allow facilitators detailed insight into the whole event. When an event is managed by a virtual producer, the plan should include:
The exact timeframe for everything to be accomplished

Presenter names, bio, and topics to be covered

Engagement activities like polls or other response-required activities

Look Sharp: Preparing Visuals
Virtual training with low-resolution graphics or visuals will miss the mark. Keeping learners on task is key and a simple way to improve engagement is with interesting, well-designed visuals. Without additional software, engaging the services of a virtual producer will help create and implement high-resolution graphics for transitions, lower-thirds, overlays or any branded slides and make sure they are all up to specifications.
Run Through the Event Ahead of Time
Setting up a trial run-through can help avoid the glitches that can derail training. While practising the flow of a training session may seem unnecessary, it is highly recommended. An Adobe virtual producer always creates an opportunity to prep speakers and moderators to work out technical problems and smooth out the flow of the event before participants join. Its also an important step to ensure that graphics, presentation, and sound work as expected. Questions to ask during a practice run:
Does everyone know where to be and when?

Is all necessary equipment provided and located where it should be?

Does lighting or audio need to be refined?

Provide Quality Equipment
Virtual training also requires a setup that allows you to produce excellent quality video, sound and lighting. A good virtual producer will suggest high-quality speakers, a webcam that can support a resolution of 720p to 1080p as well as the use of a high-quality microphone.
Another detail to consider is lighting. An inexpensive LED light placed behind the speaker's monitor will ensure a well-lit space. If possible, sitting near a bright window can also produce attractive, non-shadowy lighting. Running through the event ahead of time will also catch other lighting errors.
Understand Your Platform's Technical Limitations
Even with excellent planning and a successful practice run, sometimes events don't run as smoothly as expected. One of the biggest issues plaguing virtual events is the slow or reduced streaming capacity created by attendees using up bandwidth during the event. Knowing if your platform can handle the increased volume during the event as participants stream video, participate in polls, respond in chats or engage in any other activity the training includes is key. Check ahead of time with your service provider for maximum capacity to sidestep problems that inevitably come with extra data loads from virtual live streaming events.
Mix it Up
Make sure the presentation of the content is varied so participants aren't stuck watching an otherwise-engaging presenter for hours on end. Include live polls, a Q&A section, and a live chat stream to keep attendees interested and active during the event to increase content retention and engagement. Presentation slides that vary in style and content presentation are an easy way to provide visual interest and increase attention and engagement.
Watch these videos to learn more about Adobe connect platform:
1. https://www.adobe.com/ca/products/adobeconnect.html
2.https://www.adobe.com/ca/products/adobeconnect.html#deliver-real-experiences-video
3. https://www.adobe.com/ca/products/adobeconnect.html#extend-your-reach-video
4. https://www.adobe.com/ca/products/adobeconnect.html#look-no-further-video