Working With a Virtual Training Producer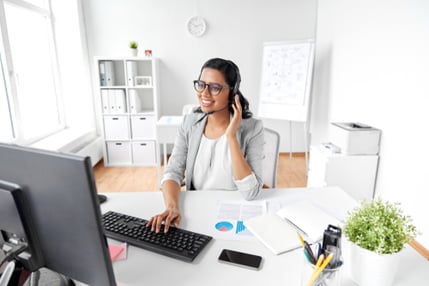 Given the major transition that many of us have made in 2020 into virtual learning and meetings, it's no surprise that there have been fast developments and widespread adoption onto virtual platforms and apps for hosting this service.
However, as many of us were thrown into this new virtual world so quickly, many people are still uncomfortable with, and are unsure of how to use these virtual platforms to their full potential. Not everyone is tech savvy, or so willing to accept a new way of doing things. Many learning leaders or Virtual Instructors simply don't have the time to lead a virtual training session, while dealing with issues, or platform intricacies.
That's where Virtual Producers come in. We'll explain what a virtual producer is, what a virtual producer does, and why you should hire one.
So, what is a Virtual Producer?
A Virtual Producer works to ensure the overall success of your virtual events from a technical standpoint. A Virtual Training Producer is a vital resource who provides assistance before, during and after your events. They are there to support the facilitator, participants, and the technology and are well versed in supporting events across the variety of available virtual collaboration platforms (Zoom, WebEx, Adobe Connect etc.)
They arrange dates and times for meetings, create training materials to administer to employees remotely, and perform a variety of technology and technical tasks to ensure that virtual meetings and training sessions go off without a hitch. If you or any of your employees are unfamiliar with virtual meeting platforms and apps, the producer is able to create training materials to bring you or your employees up to speed before any meetings begin.
The producer also troubleshoots any glitches in the meeting platform you have decided to use company-wide. They will also check for potential compatibility issues across multiple devices, so that if any device an employee uses isn't working with the platform or the app, the producer can fix it and/or test it out in advance. The producer is host support, moderator, tech support, navigator, and trainer all in one. They provide a vital resource, which allows your Virtual Instructor to deliver seamless, trouble free learning sessions. Simply put, a Virtual Training Producer takes good training, and makes it great!
The Virtual Producers Role as Leader, for a Virtual Instructor Led Training Session
In this case, the Virtual Producer creates part of the training content while also acquiring training content from course designers and instructors outside of the company. The producer pulls it all together in a cohesive way that makes it easy for your employees to follow and comprehend. The producer checks each link, each pop-up window, each graphic and the flow of one video page into another.
When the entire training works well together and does not have any issues on the producer's end, the producer will run the training by acting as an employee signing into the training. In so doing, the producer is thorough in checking for anything that doesn't work, and addresses the issues before its delivered.
Finally, on the day that the training is scheduled to launch, the producer slips into the role of the Virtual Instructor. They become the presenter for the training and the contact person if and when an employee has a problem or a question. If something doesn't work on the employee's end with the training or the functionality of the, the producer-turned-instructor becomes the one that fixes these problems so that the training can proceed. Ultimately the training by a producer becomes something more engaging and even a little fun, which is what every HR supervisor and company owners wants for their employees.
Why You Should Hire a Virtual Producer
There are plenty of valid reasons why you should hire a Virtual Producer. For example, hiring a Virtual Producer means you can have them arrange and schedule the meeting on a platform or app that everyone can use. The producer streamlines the process for everyone you want to invite to the meeting. Another reason is that the producer ensures that you can continue your meeting without having to take on the responsibilities of virtual meeting host, which can take away from your efficiency as leader of the meeting.
Additionally, the Virtual Producer works out any technology bugs that may arise while the training or meeting is in session so that there isn't a loss of time or productivity while you are attempting to fix any glitches. If you don't want your Virtual Producer to be present in the sense that they are in attendance for the training, they can stop sharing both their audio and video. Then they remain as the behind-the-scenes person and manage things that way.
Finally, you can outsource these tasks to someone that doesn't work for your company directly. Doing so means that you only pay for a Virtual Producer when you absolutely need one. It cuts down on costs and supports your company's virtual meeting and virtual training needs. You can continue to remain in a hybrid situation or go totally virtual after the need to isolate employees has ended. A lot of companies report that virtual training that is facilitated by a Virtual Training Producer is incredibly effective and very enjoyable.
Planning to use a Virtual Producer in your next training session? Get our FREE vILT Preparation & Delivery Checklist for a step by step guide to a successful rollout.