Why Should I Hire a Virtual Training Producer?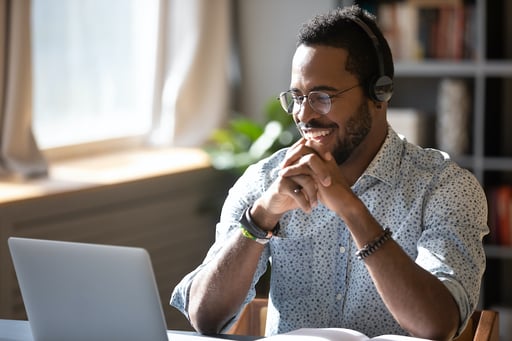 Download our free Checklist and eBook:
'Questions to Answer for TNA success!'
If 2020 has taught us anything, it's that change, and uncertainty is never too far away. With increased working from home, and social distancing efforts in place, many of us have had to take our plans for training and development back to the drawing board - redesigning them to work virtually.
Virtual Instructor Led Training (vILT) was new for some, but it provided many opportunities for businesses to continue with their learning and development plans, when traditional methods were not available. Over this transition, many have found that their virtual training didn't go as smoothly as they had hoped - this is where a Virtual Producer comes in.
Working with a Virtual Training Producer who is familiar with the delivery platform and proficient at managing live sessions can take good training and make it great!

Here's a deeper look at what a Virtual Producer does.

Running the Session

The position of Virtual Producer involves broad responsibilities and meeting with various stakeholders of a virtual event. They must be knowledgeable about the web conference software for running a virtual session and test it prior to the event. In this sense the VP is like a technology consultant and technician.

The VP learns about the content to be included in the presentation by meeting with facilitators and course designers prior to the event. Ideally, the Virtual Producer will have an outline or agenda to follow. While their main concern will mostly involve technical issues, the VP may need to assist the facilitators and hosts in encouraging quality content and acting as technical support. If the instructor loses their internet connection, a Virtual Producer is poised and ready to continue the session, as to not disrupt the class.

If the event involves taking live polls, the Virtual Producer handles the details and gathers the data at the end of the event. As a platform expert, they also explain how to use tools and features such as chat, whiteboard, or annotation. They also provide technical assistance to learners. Imagine one learner has an issue, and while it is resolved the whole class is listening and waiting. A VP can solve the issue on a one-on-one basis while the class continues.
Facilitating Multimedia Presentation
If the event uses video, or on-screen presentation the VP must understand how to make it happen. The group leader, for example, may want to refer to a PowerPoint presentation to integrate into the session. The Virtual Producer essentially needs to have knowledge of video, audio, web and various types of electronic devices to ensure everything runs smoothly.
They also need to know how to troubleshoot any issues that may arise, and be ready to continue the session in the event of any issues. Almost all Virtual Instructor Led Training sessions will utilize some form of audio, video or slideshow presentation, so it's a critical element.


Solving Technical Problems
To make sure the session runs smoothly; the Virtual Producer should have all content materials prepared so that they are easy for presenters to access. It usually takes about a half hour to an hour to test audio and video equipment to ensure proper setup. This also ensures that when learners join the session, they are greeted with a polished and professional learning experience.

It's crucial that the VP is available to fix technical issues as they arise. He or she needs to be ready to answer questions or assist in coordinating activities related to the virtual event. The Virtual Producer plays various roles from consultant, technical support and presenter if needed. They are prepared and ready to switch to a backup solution if necessary to avoid downtime.

Another task is to provide all participants with login information and make sure the presenters have downloaded software updates. For security purposes, the Virtual Producer should set participant permissions that allow for online access. This ensures no learners experience issues.

It's a good idea for all the important players to rehearse the event beforehand or discuss an overview so that everyone including the producer is relaxed and knows what to expect. The more complex the event is, such as presenting multiple speakers and graphics, the more hours of preparation needed to avoid glitches.

Communicating Clearly
In addition to troubleshooting and resolving technical issues, the Virtual Producer should be an excellent communicator who listens to others and can explain technical issues without using jargon. The VP should also make the environment as comfortable as possible, as well as making participants familiar with the web conferencing platform.

Understanding conflict resolution is another important skill the VP should have. Sometimes misunderstandings or disagreements can get heated, so the VP serves as the voice of reason to maintain a calm and relaxed atmosphere. As a communications expert, the VP should also make sure the presenters can be understood clearly by the audience.

Recording the Event
Another role of the VP may involve recording an event to be presented at a later time. These sessions require careful placement and testing of microphones, checking voice levels and monitoring the audio while recording. There may be times to adjust the input volume if speakers raise or lower their voice. These recordings can be sent to participants after an event for them to recap what they have learned, or be sent to participants who may have missed the live session.

Once the event is recorded, the project manager may want parts edited in post-production. Sometimes a presentation flows better when certain sections are removed. The VP must be proficient with audio or video editing software to make professional edits.


Conducting a Virtual Instructor Led Training session can be challenging if you try to learn how to do it from scratch. But working with a seasoned Virtual Instructors and Virtual Producers makes it easy and seamless.

Hiring an experienced Virtual Producer can help your business with webinars, staff meetings, training sessions and more!
Whether your training program requires a Virtual Instructor or Virtual Producer it is important that the training meets the needs of the students. When planning to launch a new training initiative, the first step in the process is conducting a Training Needs Analysis.


Download our FREE eBook & Checklist