Why a Training Needs Assessment is Important?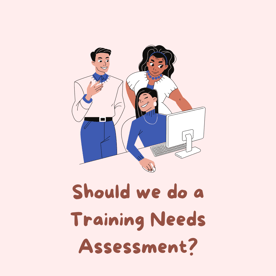 Great companies are always evolving. When it comes to growing your business, many changes require the reskilling of your workforce.
One way to do this is through a training needs assessment (TNA). TNA is the evaluation of training requirements based on a comparison of the current skills and competencies of your staff versus the projected needs of your organization. Here are some specific reasons why a training needs assessment is important.
Better Allocation of Training Funding
Say you decide to modify some of your processes and adopt some new tools. You hope that your workforce is ready to take on the challenge, but are you sure? Developing and executing a TNA takes the guesswork out of the equation.

This is the first step to finding out areas of weakness and strength. If your workforce is generally strong in one area, you'll know to allocate funds away from this area and into ones where performance is weaker. Some organizations even decide to not be all things to all people. They concentrate on being the best in their area of expertise and allocate funds to outsource tasks that require workers to develop new skills.
Identify Who Needs Training
Do you know the diverse skill sets that each employee brings to the table? When there's a new process or tool that must be mastered, there's always going to be those who can pick it up quickly, and others that can't.
A training needs assessment will help you to identify employees who will likely have trouble adapting to the new work environment. This information is very valuable in the hands of a savvy manager. For instance, you can decide to move forward quickly with your business changes by assigning master subject matter experts/master trainers to spearhead your new operations while others take additional training to develop their skills. If one of your company's strategic goals is to foster a more collaborative work environment, you can pair more knowledgeable workers with their colleagues for more 1-on-1 support.
Master Subject Matter Experts
Do you have superstars among the crowd? They are those people who hit the ground running with very little direction from supervisors. They are told the company's objectives, and they instinctively self-organize to find the best ways to meet and exceed expectations.

While everyone likely knows who these people are, it's not likely that managers have kept metrics that prove that these employees' behavioural and technical skills are superior to those of other team members.
A good training needs assessment can highlight gaps among the workforce, company processes, and organizational strategy. When it's time to choose a team lead for a new project, you won't need to guess about the qualifications of the candidate.
Development of High-Performing Teams
As change management and training leads are made aware of the knowledge and skill gap's that are uncovered through a TNA, they are able to create a training strategy and plan to uplift the applicable employees based on their specific needs. The results are more cohesive teams that work well together to meet clear performance objectives.
Ready to get started with a Training Needs Assessment, but not sure where to begin?

Get our FREE eBook Download: '6 Phases of a Training Needs Assessment'