7 Steps to Lead Your Sales Team to Success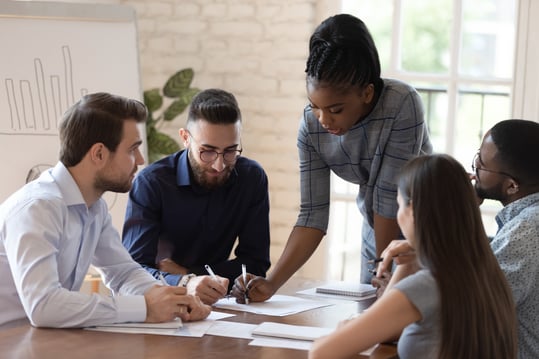 As a sales leader, you always have a keen eye on your targets. Ensuring that you meet the monthly or quarterly goals is a measure of your teams' performance, how well you are doing based on your competitors and in many cases, it can be a measure of personal success.
Leading or motivating your sales team can sometimes be challenging. Perhaps you sell physical products and your team is faced with inventory or logistic challenges. Maybe they don't have the in-depth technical knowledge required to promote product or service features or benefits? Or, perhaps the sales team is frustrated with red tape, or over complicated internal processes.
If your sales team is performing well, but you want to push them further for continued sales growth, or if you may be struggling to meet your targets and get your team motivated, take into consideration our 7 steps when planning to lead your sales team to success.

1. Encourage Continuous Learning
When hiring a new employee, they should first undergo intensive sales training so that some common problems can be avoided that may affect their performance. As found by a Harvard Business Review study, most people usually forget what they have learned in less than 30 days. An effective training program will help to mitigate this issue, and by ensuring that you have a plan for continued education, participants will be more likely to retain the information that is presented.

A continued education plan should be implemented to ensure that the material taught remains fresh in their minds. A good sales management strategy will also help you to come up with a strategic training plan. As the training program commences, some of the lessons that were taught previously should be reiterated and new topics should also be covered so that the sales team can improve on their skillset.
Its also a good idea to encourage your sales team to pursue continuous learning on their own, or suggest topics for the team to review.

2. One-on-One Coaching
Regular coaching ensures that your sales team will become more productive, skilled, and confident. When the sales team is coached accordingly, they will be ready to handle some of the most difficult situations.
One-on-one coaching also enables sales managers to present their feelings confidently and get candid feedback. They will also appreciate any help that is offered by the sales managers as long as they are allowed some flexibility and freedom. Use this time to get to know them better, learn about any issues or frustrations they are facing or to talk about their future growth and development. This will lead to a more motivated employee, who in turn is focused on their role.
Remember, a sales manager should also pay attention to the feedback they receive. This information should be used to make improvements that you action and then communicate to show them that you're listening to their feedback. If you are unable to take action on some of the feedback, make sure you explain why.
3. Can The Sales Process be Streamlined?
The best way to ensure successful sales enablement is by creating a sales process that is effective. You could also create a 'Sales Playbook'. This may not work in all situations, but will act as a guide, and will help the team create a seamless experience for their customer.

In some instances, the sales team may be facing different obstacles while in the field. The company processes should be reviewed to ensure that the employees have all the resources that they need to carry out their duties accordingly. Some of the resources the employees may need include a laptop, cell phone that they can use as a personal hotspot and to make calls, VPN to access company files or inventory management tools, and access to the software they may need. It could also prove beneficial to review internal processes to ensure that red tape or administration is minimized if this impacts their time for brokering sales.

4. Use Technology
Many sections of the sales process have been automated. The best example to use in this context is a CRM (Customer Relationship Management). CRM technology ensures that the sales team can easily collaborate, while making managing customers needs easier. They can track who they have followed up with, who they haven't, and helps with planning. An example of this type of technology is Salesforce.

You can also provide your team with other tools such as headsets and tablets so that they can multitask efficiently. Such tools will also ensure that the team can document their meetings with clients. Ask your team what tools or software would make their job easier and consider implementing.

5. The Sales Team Should Be Inspired
Most successful sales managers usually inspire their sales team during the training process. The salespeople are advised to focus on how successful they can become, or how they can make a difference. Check out more information on how to set your corporate sales and service teams up for success.
An inspiring manager can be appreciative, energetic, honest, and accountable. Although a sales manager should also ensure the team is inspired, it is advisable to speak with each employee while trying to understand them more at a personal level. In the process, the sales manager may learn more about the frustrations and challenges that the employees face.

6. Drive Competition
If you are looking for a sales management strategy that will boost your team's performance, ensure you focus on competition.
The goals should be defined clearly- some of the targets may include increasing sales volume or improving customer service. Always communicate the objectives.

Have fun- there is a high likelihood that the individuals who make up your sales team have some natural competitiveness. They should be encouraged to participate in competition while also making it interesting and fun.
You can also hold meetings to discuss current statistics, targets, challenges, increased competition and selling techniques. While meeting, staff should be encouraged to share their thoughts on how different processes can be improved.
7. Establishing a Strong Company Culture
Great company culture is essential to happy employees. To improve your company culture, the focus should be on ensuring there is flexibility, reputation, and professional development. There should be flexibility when it comes to scheduling and the location where employees work. A company's reputation also matters, and that is why it's a good idea to practice sustainability while also giving back the community in different ways.

The culture can also be improved by ensuring that there is a positive social and physical environment in the workplace. Employee achievements should be celebrated and provide positive feedback often. You could also organize competitions and events to ensure the sales teams are excited and engaged. Think of implementing a reward program based on sales numbers, the employee that gets the most sales in a quarter could be rewarded with an extra day of vacation, or a gift card. Or, plan a team night out at the bowling alley.
If you are looking to lead your Sales Team to Success, but don't know where to start check out our FREE Download Organizational Culture Assessment which will guide you through the steps of assessing your organizational culture.