What Is the Future of Work?
4 Strategies to Prepare Managers
Since 2020, employers around the world have seen a significant disruption in the workplace. More employees are working from home than ever. Workers are also reconsidering their career paths and quitting in large numbers. Other factors, such as inflation, skills shortages, and digital transformation, are putting greater pressure on employees to meet company objectives.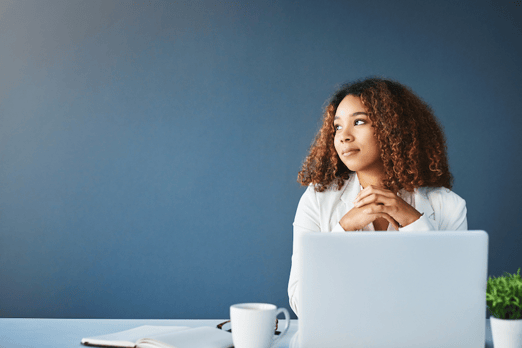 Combined, these changes are pointing toward a shift from prioritizing your bottom line to prioritizing your people. Workers want to know that they are valued, understand why they are in their roles, and know whom they are doing it for. Successful ventures of the future will embrace this change, differentiating themselves based on their employee experience.



Organizations need to educate their leaders on these changes and adopt managerial strategies that will improve the employee experience. What is the future of work, and how can your managers better prepare?


What does the future of work look like?
Equity and social impact initiatives
Between the civil rights protests of 2020 and persistent extreme weather events in recent years, social and environmental issues have reached a breaking point in the United States. Forward-thinking organizations are integrating diversity, equity, and inclusion (DEI) and sustainability initiatives as part of their core values, and employees are choosing companies that take a stance and invest in it. Conversations around equity also extend to the availability of hybrid work environments, compensation, and access to mental health and other well-being resources.
Evolving workplace cultures
At the height of the COVID-19 pandemic, some organizations may have anticipated a full return to in-person work once vaccines were rolled out and outbreaks subsided. Employers are now realizing that this expectation is unrealistic — hybrid and flexible work environments are here to stay. This is fundamentally changing workplace cultures, as remote and hybrid workforces can be more challenging to establish and maintain a healthy culture with lasting, meaningful connections.
Persistent turnover rates
When employees struggle to establish meaningful connections at work, they may be more likely to quit. Another factor contributing to sustained turnover rates is the availability of remote job opportunities. As remote positions become widely available, employees have access to significantly more job opportunities and a more competitive hiring market than they did before the pandemic.
Digital transformation
Employees have been forced to embrace new software that they might not have used before the pandemic, such as video conferencing apps and collaboration tools. Additionally, many organizations are investing in digital transformation initiatives. Employers risk eroding job satisfaction and increasing employee stress if they do not adequately train and support workers with new technologies.


How to prepare managers
Organizations must transform the role of managers if they hope to keep up with these changes and stay competitive in the future—both from a business and a hiring perspective. Here are some ways to prepare managers for a rapidly evolving future of work.
1. Develop culture-building managers
Traditionally, managers spend a lot of time on repetitive tasks such as scheduling, reviewing performance metrics, and writing reports. Gartner research estimates that 69% of routine managerial tasks will be fully automated by 2024. This doesn't necessarily mean companies should have fewer managers, but rather focus their roles on a more in-demand function: employee experience. Organizations can support this change by investing in leadership development in training programs that give managers new people-focused skill sets, such as:
Understanding and improving the state of workplace culture.

Managing and supporting employee career paths and promotions.

Evaluating training needs and skills gaps in their teams.
2. Change mindsets about hybrid work
Many organizations maintain the belief that in-person workers perform better. In reality, research shows that the most successful workplace model is one that isn't location-centric. Managers should embrace this approach and be given the tools and skills to improve hybrid and fully remote teams. Organizations should also educate managers through leadership development training on equitable management practices with remote workers, such as delegating tasks or making promotions fairly whether employees work in person or at home.
3. Train managers on employee well-being and inclusion
Almost half of HR managers secured more budget for well-being programs because of the pandemic. Employee well-being programs are crucial to employee engagement and retention, but these benefits can only be realized if programs address your organization's needs and are well-utilized. Managers play a key role in the impact of well-being initiatives. For example, managers can identify in-need workers, ensure that employees are aware of the resources available to them, and assess the impact of well-being programs. Planning leadership development training on diversity, equity, and inclusion (DEI) as well as promoting individuals from underrepresented groups to managerial positions can also promote a more inclusive workplace.
4. Embrace innovations
New software and technology training should start with managers. Managers who understand the purpose of adopting new tools and can use them effectively are more likely to get employee buy-in and improve usage. Managers should also be trained on how to evaluate skills gaps and performance as employees integrate new technologies into their workflow.


In summary
Whether or not your company prefers an in-office workforce, the reality is that a people-centric, flexible work environment is the future of business. Managers can help facilitate this change in forward-thinking organizations by adopting the skills needed to foster workplace culture, manage remote teams, promote employee well-being, and digitally transform.
Ready to Learn more and not sure where to begin?
Get our FREE eBook Download!
'5 Skills Leadership Development Training Enhances'