What Does a Contract Trainer | Contract Facilitator Do?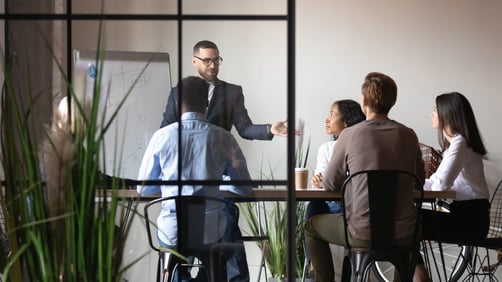 A contract trainer trains the employees of a business to perform at a high level. They are responsible for having a strong understanding of the training content (requiring various levels of specialization) and must be able to present it effectively by tailoring their delivery style to match the learning audience. The contract trainer works with various stakeholders to evaluate the success of learning.
Contract trainers are experts, hired by companies to assist corporate leadership in determining the most appropriate way to train employees. Contract trainers are tasked with training a businesses' staff and can do so when a company's internal training team lacks the time or skillset.
Many companies that are introducing new technology or software look to contract trainers, as many do not need the services of a full-time team member or lack the resources or expertise to conduct the training internally. Working with a contract trainer enables a company to scale their employee's training, when and where they need it. With a solid train-the-trainer process and leader's guide, delivering a consistent learner experience can be achieved successfully.

Benefits of a Contract Trainer
Companies that benefit from hiring contract trainers over full-time trainers can be categorized into two groups; financial advantages and expertise advantages.
1. Financial advantages
The shift from full-time specialists to outsourced staff cuts down on the actual total costs of staffing. Direct and indirect costs such as benefits, recruiting, compensation, managing, training, and more are also cut by hiring a trainer on contract. Because of their nature, trainers can be hired to conduct training for a specific initiative, such as training for new software. Once the project is complete, the trainer is no longer required.
2. Expertise advantages
The use of contract training experts allows businesses to engage an expert in a specific subject matter. If for example, you are launching a Salesforce software training program, consider engaging a Salesforce certified trainer. This will give greater credibility to the learning experience and could elevate the classroom discussion.
Skills of a Contract Trainer
A good contract trainer must have technological, adaptability, organizational, communication, and advanced research skills.
The Contract Trainer is responsible for having a thorough understanding of the training content (requiring various levels of specialization) and must be able to present it effectively by altering delivery style to match to the learning audience.
When hiring a contract trainer, below are skills and experience to consider:
In-depth career in client industry or line of business

In-depth knowledge in subject matter

Advanced Industry Accreditation

Years of adult learning and training delivery experience

Senior Manager/Executive level audience experience (if required)

Graduate Level Degree or Instruction Certification equivalent

Proficiency using presentation tools and equipment

Direct or indirect people management

Some instructional design background



Consider engaging a team of contract trainers for change initiatives, such as:
Upgrading to a new technology

Following a merger or acquisition

Training employees on how to comply with new rules, laws, and regulations

Expanding operations to a new location

Introduction of a new business product line

Filling the leadership talent pipeline

Introducing a new human resource or cultural change initiative
Responsibilities of a Contract Trainer
When engaged on your training program, below are some of the responsibilities to consider:
1. Participation in train the trainer activities
2. They will review content and practice to ensure effective delivery
3. Some pre-program coordination activities required by trainer
4. Compile pre-work or assessment results
5. Set-up and disassemble training environment (virtually or in-person)
6. Deliver learning program using presentation materials that follow an instructional flow
7. Complete level 1 and 2 learning program evaluations for participant reaction and learning
8. Post-program phone and/or email follow-up activities required by trainer
9. Provide feedback on program improvements such as content, flow, exercises, activities
Ready to engage a Contract Trainer, or want more information?
Get our FREE Infographic download: 6 Step Engagement Process for Contract Training Professionals (CTP)