How Training Consultants Take Employee Education to the Next Level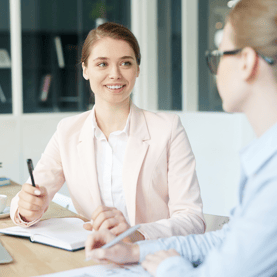 In the post-pandemic job market, many organizations are struggling to find and retain talent. According to a 2022 study by Jobvite, 30% of workers now quit within their first 90 days.
This is why providing employees with adequate training, and a solid employee onboarding plan is crucial for your business. Not only does it enable your workforce to learn new skills and improve productivity—but it also helps your business avoid the costs associated with employee churn.
Training consultants are a way to take your organization's learning department to the next level. If you're interested in engaging a training consultant but aren't sure where to start, here's an overview of what a training consultant does, how they benefit your business, and how to choose one that fits your goals.
What is a training consultant?
Training consultants help organizations create employee training and development programs. They start by assessing an organization's existing programs, desired learning outcomes, and business goals. This information helps them create a program that supports your business goals and optimizes employee learning. Training consultants also create new course materials and tools to evaluate how the new program is performing.
How does your business benefit from a training consultant?

1. Time savings
Using internal resources to develop training programs can take significantly more time and resources than an outsourced specialist and distract employees from their primary responsibilities. Corporate training companies and organizations with an effective learning department can benefit from a consultant's efficiency, as consultants are trained to address client requirements in a constrained time frame.

Additionally, engaging a consultant can have significant long-term gains. According to Gallup, replacing an employee can cost anywhere from one-half to two times their annual salary. A training consultant gives your organization the training resources it needs to improve employee satisfaction and minimize turnover in today's competitive hiring market.

2. Higher employee engagement
Providing your employees with a training program won't benefit your organization if your employees aren't retaining or applying any of the skills they are learning. Training consultants understand how to identify knowledge gaps and achieve an organization's desired learning outcomes. They are skilled at developing training curricula and materials that improves employee engagement and provides actionable skills. This is valuable for in-person learning—but especially crucial for virtual training now that many employees are working in a hybrid environment.

3. Industry expertise

Training consultants often specialize in a particular vertical and understand your organization's learning requirements in the context of your industry's demands and market changes. They also have access to industry-standard tools like new software solutions. This outside perspective helps your organization keep up with industry best practices and can expose knowledge and resource gaps that might not have been visible to internal teams.
Hiring a training consultant: what to look for
When hiring a training consultant or a contract instructional designer here are some things to consider.
Industry-specific knowledge. Make sure you hire a consultant that has a significant amount of experience in your industry. This ensures that they have the skills and resources to address software requirements, learning needs, market changes, and other industry demands that other consultants might not understand.

Communication and flexibility. Assess how the consultant communicates. Are they curious about your organization's learning concerns, needs, and outcomes, or explaining their accomplishments? Choose a consultant that is focused on building custom solutions that address your needs rather than using a one-size-fits-all approach.

Compatibility with your workforce. To build a training program that addresses your needs, consultants must collaborate with employees. This gives them a deeper understanding of your organization's knowledge gaps and desired learning outcomes. A training consultant spends a lot of time integrating with your workforce, so hire one that complements your workplace culture.

References. Check the consultant's references and ask other industry professionals for recommendations. This will give you a better sense of their track record in your vertical as well as their training approach and communication style.
The bottom line
If you're like most other employers, you've probably experienced higher employee turnover in recent years than you've seen before. This is often costly for your business, decreasing productivity, revenue, and morale—and could even affect your reputation in the industry.
Sufficient training is one of the most effective ways to minimize employee turnover and keep your workforce happy, engaged, and productive. Hiring a training consultant is a cost-effective way to provide more impactful learning opportunities and keep your business up to date with training requirements in your industry.
Ready to learn more? Get our FREE Download:
'5 Tips for Selecting the Ideal Instructional Design Company'