Best telehealth training for your employees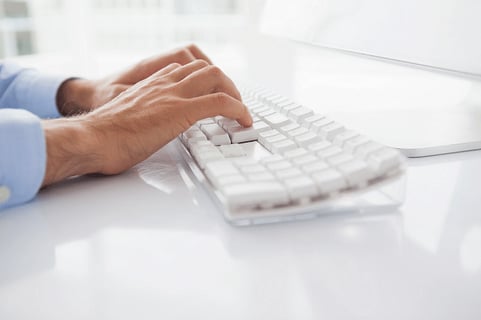 Get our FREE DOWNLOAD: 'Top 5 Best Practices and Checklist for Software implementation Training'
Most of us know, that providing effective training empowers our teams – making them more productive in their work. When planning telehealth training, you want to ensure that you deliver the message effectively and selecting the right training modality plays a major role.
The options for delivering training are nearly endless! From Classroom, to eLearning or Virtual Instructor Led Training (vILT). The right training modality sets the tone for your learning plan.
For employees that will be using specific telehealth software, training is a must! You want to ensure that all employees have thorough knowledge of the software and how to use it properly.
Let's take a closer look at some of the popular training methods and why each is important for software training.
1.Classroom Training
The tried-and-true method, Classroom training can be a great option for Telehealth Software training. This method allows you to host sessions in a classroom setup, with multiple learners at a time, and ensures that each employee has the same learning experience. In this setting, there will be opportunities to ask questions and hold discussions about various aspects of the software. This training approach also allows for one-off training that takes everyone on board.
Features
The training is delivered in person and physical learning materials are used in discussions and assessments. The trainer arrives on site, and the employees are gathered to be trained about the software. A more hands-on approach allows for a demonstration and interaction with the software.
This method will allow employees to learn about how the software operates and how they are supposed to use it. An instructor will demonstrate the software, and can talk learners through more complicated features while providing support.
Benefits
Classroom training takes care of many employees in the same session and reduces the overall cost of the training. Interaction in the classroom also promotes collaboration.
2.Virtual Instructor Led Training
Based entirely online, this training style aims to imitate the traditional classroom. Training is delivered by a Virtual Instructor, who teaches the class much as they would in person. This is a great method for learners that are spread across the country, or in different time zones.
Features
A live video stream of the lessons ensures that the learners see the actual software in action. This is streamed to each of the learners engaged in the lesson. The chat features allow for questions to be asked as the training proceeds and promotes interaction amongst those learners who may not ask questions in an in person session. All the communication takes place in the virtual classroom and promotes a collaborative environment.
The communication in these lessons is instant and live. There are also interactive tools that help the learner gauge their understanding levels, such as surveys, quiz and poll questions. These reinforce key points learned in the class.
Discussions are also possible with breakout rooms. These allow for interactive collaboration and solving cases together.
Benefits
This mode of learning saves on costs and is convenient. The modules do not take the entire day, and there will be no projects that are delayed while training. Also, there will be travel expenses for the trainer, and you are assured of a consistent learning experience. This method has become very popular in the last year, as many organizations look for ways to continue their learning and development objectives while working at home, or socially distancing.
Depending on the complexity of the topic, or if you want training to be delivered in short sessions - it is much better to break down the learning into short components that are easy to understand. This is especially true for complex software components and features that need more time to understand. This mode of learning focuses on more engagement and time-saving methods of training.
Features
The lessons are concise and to the point. The units of learning are also small, and the activities short term. This allows the learner to participate in short bursts of training, and can study the material at their convenience. The learning materials are always short and take various forms like images, text, games, audio, and tests.
Benefits
The time for delivering a course is shorter, and the courses are easy to build. It is an ideal way of responding faster to adaptive business goals and growing training demands. The lessons and courses can also be more cost effective, as fewer resources are needed. One of the main benefits is how flexible Microlearning is. Learning can be taken at work, or on a smartphone.
The training can cover any subject due to its bite-sized design, and learners find it more engaging. It is also a means of boosting knowledge retention, and learners have greater freedom to study in their spare time if they so choose. Learners can also review a lesson multiple times.
Online learning systems aim to improve employees' skillset by giving them access to the latest learning materials when and where they need them. eLearning takes the form of learning materials that can be easily accessed and include various features to boost engagement and ensure that all learners progress at a reasonable pace.
Quiz platforms are available, and the program can be set up to automatically grade the answers and provides the learner with their score. These are useful for understanding the concepts of the software being taught and will serve as a measure of the training's effectiveness.
Features
All the materials involved in any course in the eLearning program are available online. Learners need to have the relevant credentials to access this material, making it a very secure option. These programs can be set up so that there are regular emails and notifications about a learner's progression through the course, and what score they got. This makes it easy to manage a learner's journey, and their progression through the content.
Benefits
eLearning saves both time and money because you can access content anytime from anywhere. As such, your employees will not need to stop working to attend classes. Training is also scalable to more of your employees if the need arises. Learner are able to choose the learning path they will follow, which makes them invested in the course and keeps engagement high.
There are many different options when it comes to training employees about your telehealth vendor software. What you choose determines your expenses and the retention of the course materials.
Conclusion
There are many different options when it comes to training employees on your telehealth vendor software. What you choose determines your expenses and the retention of the course materials.
Whenever you want to train your employees on how to operate and interact with telehealth software, you need to ensure that the training mode imparts the skills they require. Some training modes tend to be more costly than others, while others are limited in the depth of knowledge that they can cover. Take the time to compare each of the available options before settling on training for the software.
Whether you decide on Classroom, Virtual Instructor Led Training (vILT), Microlearning, eLearning, or a combination - its important that the training meets the needs of the students. Get our FREE DOWNLOAD: 'Top 5 Best Practices and Checklist for Software implementation Training' to help create excellent Telehealth Training!