5 Best Practices for Custom eLearning Course Development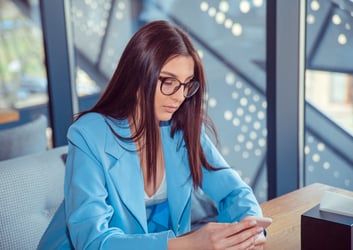 As a result of the COVID-19 pandemic, working and learning online has become a greater part of our everyday lives, more so than ever before. This shift has allowed schools, universities, and many companies to continue their work remotely, and in turn has changed the way we learn, plan our training, or develop our employees.

With in-person classroom training no longer an option for many places across the country, learning leaders are shifting their focus to eLearning opportunities.

This technology has allowed for learning and training to continue as it suits different needs, tight schedules, or those working at home. With many businesses now taking this approach to train and develop their employees, how do you create engaging eLearning and a worthwhile learning experience?
Why eLearning?
Creating an eLearning training program can be an overwhelming task, but by sticking to some of the industry's best practices, you will be able to create a truly engaging and worthwhile learning experience. eLearning has been increasing in popularity over the last few years, there is significant research and market forecasts that predict a further increase for the use and implementation of eLearning as a training modality for 2020.
"Online learning has shown significant growth over the last decade, as the internet and education combine to provide people with the opportunity to gain new skills", as referenced in Forbes Magazine.

Businesses aren't simply switching to eLearning because of forced circumstance, but because of the benefits the platform offers. As a method of training and development, employers can deliver a consistent learning experience for their staff.
Customization
Customizing your eLearning program will help to create instructional material or content tailored to your specific training need, business goal, or brand guidelines. Customized eLearning is specific to your business problem and owned by you - available to your employees when and where they want to access it. By designing what works best for your company, custom eLearning course development creates a solution to a specific problem. Modules also consider your organizations unique culture, which often necessitates the need for developers to design a program that speaks to your employees.

When embarking on a new training initiative, using a solution that is 'off the shelf' often doesn't answer or address your specific training requirements, and can lead to employees becoming disengaged with the process. When training isn't tailored to the issue you are trying to address, examples of other organizations or problems won't resonate with learners. Expert trainers can work with you to identify your training needs and design a custom eLearning course that works for your company, culture and your employee's development requirements.
Getting Started
Working together with various stakeholders, Subject Matter Experts (SMEs), and the rest of your training team on the content development stage ensures that you retain a clear picture of the kind of training that you want. This is important because no one knows your organization better than you do. Therefore, you understand what works best for you in line with your vision, goals, organization culture and objectives.

Here are Some eLearning best practices:

1. Design the course with well-defined learning objectives that map to your performance goals
2. Intuitive design or giving clear instructions that are easy to follow
3. Engage todays learner by including video, gamification, or other interactive methods
4. Ensuring that the content is accessible on mobile devices and tablets
5. Make sure the course is engaging by designing the course to include knowledge checks, questions, quizzes or feedback
Design Great Training, with a Partner
Working together with a training partner will add value to your training initiative. Training experts have a way of doing things differently and incorporate new and engaging ideas which is likely to motivate your employees. They are also well experienced in creating and delivering excellent eLearning training modules. Consider for example including video-based content which captures the attention of participants, thereby focusing them on the content. A focused employee will master the required skills quickly.

Moreover, best practices also include ensuring that the content is accessible on mobile devices and tablets. Content that is easily accessible encourages learning to take place anywhere, which helps to shorten the time employees spend learning.

Furthermore, custom eLearning content is interactive as it integrates quizzes and feedback opportunities. Achieve this by collaborating with your trainer to use your workplace examples and illustrations. Apart from quizzes, you can also include forms where employees provide feedback. This makes online training interactive, encourages engagement, and makes the employee feel like a part of the training program.
Be Clear and Concise
eLearning requires clear instructions so that employees who are less comfortable with technology don't become alienated. Employees should know how to progress through training and their expected progress. A custom eLearning development company can help with the formulation of instructions so that the intended clarity is achieved, while also designing an easy to follow training module.
Working with an eLearning Developer
Finally, you should design interactive content that engages learners. This can be achieved by including questions throughout the training module. Consider engaging the services of a custom eLearning Developer to help you design an interactive learning experience.

Some of the benefits of customized eLearning include:
• Reduced costs of training employees
• Flexible training and learning schedules
• No need for travel
• Improved employee work attitude
• Increased employee motivation
• Improved sales
• Customer satisfaction
• Loyal employees

Given its nature, this approach also allows you to evaluate whether your learners have mastered the skills targeted in your eLearning module. You can achieve this by including short evaluations, some of which can be programmed to be graded automatically. This leaves you with ample time to interact with employees through the open-ended questions that also test individual approaches to issues.
Looking to get started or improve your eLearning? Download our
FREE 'eLearning Dream Team' to discover the key roles, their responsibilities and the skills they offer for flawless project execution.