Why You Need a Remote Instructional Designer Now More Than Ever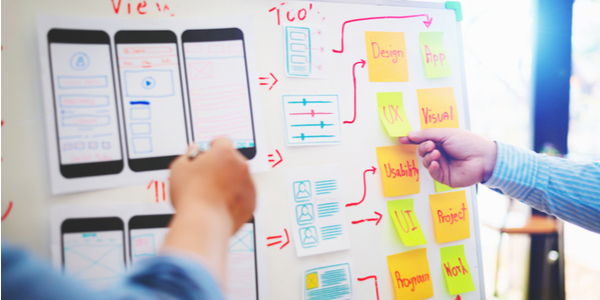 The corporate landscape has quickly changed. With many employees working remotely, having staggered starts, or balancing their time between working at home and working in the office there is a need to adjust workflows and pick up new skills. How can your business adapt and keep its employees ahead of the game? Training is key.
It cannot be ignored that with a scattered workforce, there is now, more than ever, a need for employees to feel connected to each other and to your company. They need to be aware of changes in processes or organizational direction.
If your business is adjusting the way it operates, reassigning roles, or implementing new tools to complete tasks, everyone involved will need instruction on these changes. Even if there have been no major operational changes, employees still need to engage in regular corporate training.

Classroom training is the traditional method for instructing employees, but the need for physical distancing turns this into a costly option and a logistical nightmare. The optimal solution is to utilize a virtual classroom, allowing employees to receive vital training from home while saving time, money, and energy normally spent organizing the event.

How can you implement an efficient and effective remote learning system? Now, more than ever is the time to hire a Virtual Instructional Designer.

A Virtual Instructional Designer can create a virtual training environment customized to the specifications of your organization, using their wealth of experience in designing online corporate learning experiences and employee development courses.

Getting Started
After reviewing your business objectives with you, your Instructional Designer will then work remotely to create a training strategy to reach those goals. They will collaborate with your educational team or L&D Department to either create new courses or adjust your current courses for virtual delivery to your employees.

Adjusting doesn't mean throwing out what you already have in place. Your designer will take your current classroom curriculum and materials and optimize them to fit an online learning environment. This can mean creating videos, modules, and methods of tracking employee engagement and progress - all specifically designed for remote delivery.

If you need to change the curriculum or introduce new requirements or processes to your workers, they can use surveys, interviews, or online focus groups to identify knowledge gaps or other opportunities for improvement. Once they have identified training opportunities, they will work with you to determine the best delivery format, such as eLearning modules completed at the individual pace of the employees, or Virtual Instructor Led Training that is attended by many people at once.

When creating your coursework, your designer will also consider the learning needs of your employees, including their unique individual learning styles or limitations in access to technology. Creating and delivering your corporate training program also involves scheduling considerations for a workforce scattered across various locations. None of these factors would intimidate an experienced Virtual Instructional Designer.

Instructional Designers have a large toolbox at their disposal to create the laser-focused learning environment your business needs. They are familiar with eLearning platforms, including Storyline 360 and Captivate, and will help you determine which ones best fit your goals. The designers can establish virtual classrooms using Adobe Connect, Zoom, WebEx, or Microsoft Teams. If you have a preference in platforms, they can design training materials optimized specifically for those programs.

How is having an Instructional Designer on your team beneficial?
We work to ensure that the Instructional Designer(s) you hire are at the top of their fields. They are deeply knowledgeable about your specific industry, and are up-to-date in their certifications, ensuring that your employees' training is current and relevant.

Your Instructional Designer will take responsibility for the entire process of training your employees, under the guidance of your input. Virtual classrooms and eLearning are their areas of expertise. They can relieve your burden of trying to create or adapt an entire training program to reach remote employees.

Changing Roles
Some adjustments your company may make can include changing roles for employees. Without the benefit of someone working side-by-side with them to train them for their new role, the employee may lack confidence in meeting their new obligations. Your designer can review the role and develop competencies required to get the employee up to speed, outlining the unfamiliar processes and procedures to follow. The right training will give them the foundation to be successful in their new role, making transitions easier.


Continuous Training for Leadership
Corporate leaders also need continued coaching as the organization adjusts to new business demands. Your designer can work with leadership to create mobile modules that deliver necessary information in a format that is quick, easy to digest, and helpful, while not requiring too much additional time from busy executives.

Hiring a virtual Instructional Designer can also help to reduce the costs associated with outsourcing your training needs. They can free up resources and reduce time spent on logistical details. Multiple online training courses can occur at one time since classroom space is no longer an obstacle. With employees working from home, or working at the office while social distancing, they will eliminate the time spent traveling - increasing productivity.

With an Instructional Designer on board, your system for training employees won't stagnate. Through continuous evaluation, they will review feedback for any necessary adjustments to the courses. As additional needs arise, your designer can quickly respond with training strategies to meet those needs.



Looking ahead
Even under normal circumstances, a virtual training environment is ideal for many organizations. It will erase the costs associated with obtaining training space and the time spent traveling - saving your organization time and money. Training schedules can be flexible, and virtual classrooms are highly interactive. The increase in efficiency and productivity this training method brings make virtual classrooms a valuable asset.

Your organization's business goals need not be delayed because your workforce has had to make adjustments and move online. TrainingFolks can help you leverage a remote instructional designer to redesign your current training program or create a fresh program to reach your employees.

Contact us today for a free guide to find your best fit Virtual Instructional Designer and keep your business moving in the right direction.
Download our 6 Instructional Designer Interview Questions to find out the
must ask interview questions plus key traits of a great Instructional Designer.