Which of the following statements is true of needs assessment:
4 TNA Myths




In September 2022, the United States Bureau of Labour Statistics reported almost 11M job vacancies—nearly twice the number of unemployed people in the US. As more people leave their jobs to continue their education or pursue other lines of work, many companies are faced with critical knowledge gaps. Beyond recruiting and training new employees, organizations can fill these gaps by upskilling their existing workforce.



Some organizations use training needs assessments as part of their upskilling and training strategy. A training needs assessment is a tool used to define performance requirements for different roles within the organization and identify the skills and knowledge needed to meet those goals.
When done well, this process drives more effective employee learning and development programs to optimize training resources and improve the organization's performance. Assessments are valuable when organizations merge, adopt new software, face a significant performance downturn, or experience another change.
However, not all organizations use training needs assessments, and some may view them as an unnecessary practice with little ROI. If you are skeptical of investing in a training needs assessment—or if you've implemented one and aren't happy with the outcome—it's possible that your approach is founded on some common misconceptions. Here are five myths to consider for your training needs assessment strategy.
1. Training needs assessments only require a simple survey.
On its own, giving employees a questionnaire is an efficient way to assess training needs—but it's unlikely to assess learning and development requirements accurately. People's survey responses are often different than their real-life practices, and surveys can't always show why skills gaps exist in the first place.

Training needs assessments to work best when there are in-person interactions and the organization puts a significant amount of time and resources into planning the assessment. Beyond a simple survey, effective assessments typically:
Plan where to focus the assessment and determine key goals and desired outcomes.

Use a qualified professional, such as an instructional designer, to plan targeted survey or interview questions.

Review performance data, evaluate role-related content like policies and procedures, and conduct in-person interviews.
2. A training needs assessment is a one-time project.
In-demand skills are changing rapidly as workplace technologies evolve and organizations digitally transform. This environment necessitates continuous skills development to stay competitive.

Organizations benefit most from training needs assessments when they are implemented regularly. This will allow you to improve your assessment strategy over time to increase ROI and keep up with in-demand skills in your industry. Continuous learning and development opportunities can also help attract and retain talent.
3. Your resources are better spent on actual training.
Many organizations balk at the cost and time commitment of training needs assessments and skip the process altogether. However, this approach can cost more time and money in the long run as it forces you to reassess training needs anyway when issues inevitably surface.

By focusing only on training, your organization may be reinforcing skills gaps that impact your bottom line without even realizing it. Training needs assessments are more proactive, ensuring that employee training programs closely align with business goals and improve employee learning before they are rolled out.
4. Top leadership doesn't need to be involved in assessments.
The goal of a training needs assessment is to develop more effective learning and development programs. If you don't have leadership buy-in early on in the assessment process, you may encounter pushback when it's time to implement a training strategy.

Even if training needs assessment only focuses on a small part of the organization, all relevant leadership roles should be involved from the start. This will make it easier to secure approval, budget, and other resources needed to turn assessment results into an effective training rollout.
The takeaway
An increasingly competitive hiring market means that many companies are evaluating their learning and development strategies. Despite some common misconceptions, training needs assessments are crucial for designing training programs that improve your bottom line and attract and retain talent. To realize these benefits, ensure that your assessments are well-planned, iterative, and have leadership buy-in.


If you found this blog helpful and want to learn more,
be sure to download our FREE Infographic: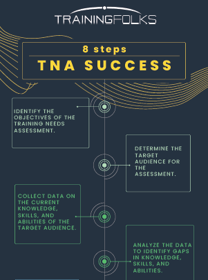 8 Steps to TNA Success
Download now!