Top Benefits of eLearning for Employees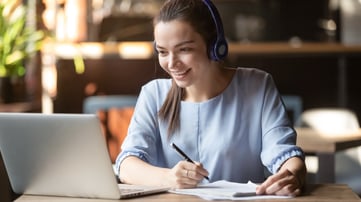 As a business owner, training your employees is something you should invest in. But the process of organizing, creating content, and scheduling training can sometimes be more than you can handle internally. The good news is that you can create training with the right eLearning. On top of making you more effective and productive, such a system has several advantages for your staff. Having said that, here are some of the main benefits of eLearning for employees.

Online Training is Accessible At Anytime
Employees have different responsibilities. eLearning gives employees much greater flexibility as far as accessing training when it's convenient. When learning the conventional way, an employee often has to be present, which may not always be possible. If they are too busy working on something else or fail to turn up on time, they miss out on whatever is being taught. The type of flexibility offered by eLearning enhances productivity and improves employee motivation. Being accessible anywhere also helps to deliver training to employees that are spread across the country or working remotely without the expense of having them come together for a centralized training session.

Today, many systems use cloud technology. This means that an employee can log into their learning portal at any time wherever they are. Good LMSs have responsive designs. A responsive Learning Management System will be easy to access and use on different smart devices. That way, they can access training even on their phones, and track their overall progress.

Allows Course Repetition
One of the challenges of offline training is where employees have only one chance to take a course. Usually, they'll need to note everything down and make sure they remember it. Even though this is a great method of training, sometimes having the ability to retake lessons can be beneficial.
eLearning allows you to make a course available more than once for the learner, or group of learners. This means that if your employees need to go through a module again to brush up on their skills, they are free to do so whenever they want. Imagine hiring a new employee, that starts work one month after an important training session was delivered. If this course is part of an eLearning module, they haven't missed anything - they can still take the course!

Gives Room for Self-Paced Learning
People learn at different paces. Whenever a training happens offline, it may put constraints on some employees. Taking longer to learn a concept doesn't mean a lack of productivity. But, when under such pressure, even good employees may crumble and become unproductive.

Knowledge retention is important when conducting such training. Self-paced learning gives room for better retention of knowledge. Because of this, employees will have an easier time applying what they've learned.

Fast and Reliable Delivery of Training
eLearning makes it easy to digest small bits of information at the learner's own pace. During an offline training session, you may have to take a couple of hours running through a concept. This is often so that everyone can get back to work as soon as possible.

With eLearning, you can reduce the learning time for training by up to 60%. The good thing about LMS platforms is that you can pick how to deliver information quickly. With that, your employee will be able to cover the lessons with great speed and efficiency.


Scalability and Consistency
eLearning is perfect for any company that is looking for scale. You won't have to worry about increased expenses when dealing with training, as once your course is created it can be delivered time and time again. Traveling for training seminars isn't always possible, but as long as you are training online, employees can access it wherever and whenever they need it. eLearning is also easily scalable - as new courses or modules can be added at anytime to further build your learning offering.
Want to start creating eLearning, but not sure where to begin? Get our FREE download 'How to end your eLearning Module' for the best methods to successfully end your eLearning Module to ensure knowledge retention.