Top 5 Mistakes When Implementing Virtual Instructor Led Training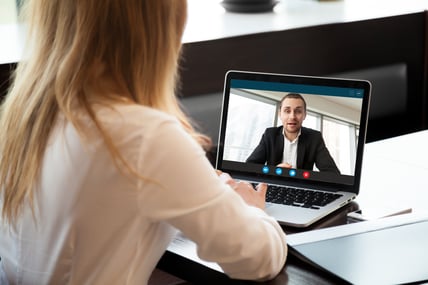 As technology evolves and people become more and more comfortable connecting virtually, many companies are looking for effective ways to transfer their training resources to the digital space, and that is where ViLT or Virtual instructor led training comes into play.
ViLT is one of the fastest developing modalities when it comes to online learning and has become an essential information delivery technique in various sectors, including corporate training. Virtual Instructor Led Training can be a great and cost-effective addition to the offering of your L&D department. Businesses love the low impact it has on the bottom line, and the participants enjoy the convenience it brings.

Some of the benefits you will enjoy by implementing Virtual Instructor Led Training in your company include lower resource requirement, cost-effectiveness, and user-friendliness. Despite its increased popularity, there is a wrong way and a right way to create virtual training experiences, which can make or break your training program. We are going to look at the common pitfalls you should avoid when implementing Virtual Instructor Led Training.
1. Lack of proper management
Technology can bring numerous benefits for engagement and interaction, but it requires a high level of attention and preparation from the facilitator. If you fail to prepare before a virtual training session, then you are losing out on your audience. Being well prepared when it comes to technology is crucial because it saves your time from being taken up by unforeseen technical issues. Here are some useful tips to help you manage your virtual training program effectively:



When setting up your camera, ensure that you check the background, frame, and lighting, among other things

Ask your audience to turn off their smartphones and other mobile gadgets at the beginning of the training session

Keep an eye on the participants videos, chat boxes, and any other features for any comments or questions

Make sure you are familiar with the course content to help you customize it to the needs of the learners

Speak confidently and audibly using medium pace and remember to vary your pitch from time to time
2. Non-engaging or non-interactive training
No one likes being a part of the repetitive everyday lectures through the provided collateral alone, and that's why ViLT came to being. However, the risk of opting out or getting bored is a lot more in this scenario because of the unlimited distractions that can occur, which might divert the attention of your learners from the content.
You can prevent yourself from such misfortunes by captivating your audience with solid, interactive, and engaging materials. Here are some more tricks that can help you make your training sessions more engaging:
Include some multimedia elements to your presentation or slides, rather than having an ordinary slide deck with a lot of bulleted content. You can add audio and video clips, animations, infographics, mini-games, and exciting polling questions

Break lengthy presentations into multiple smaller parts and integrate a break in every 45 to 60 minutes

Include some post-training exercises to maintain the interaction of your training session

Create an excellent collaborative environment to maintain the interest of your audience. You can call the participants to ask some open-ended questions or even provide answers. Open-ended questions can help your learners synthesize and apply all the concepts presented with more ease
3. Not equipping learners with course materials
One of the most popular mistakes in virtual classroom training is failing to provide your learners with relevant course workbooks or journals. Many virtual classroom instructors often overlook the need to offer these resources to the learners.
However, it is advisable to provide your learners with the course content before you take them through the course. To do that, you can either send the materials through email or post it online as a PDF document. By doing that, your learners will get to experience a similar feeling to that of a traditional classroom approach and enjoy similar benefits from reading the accompanying content, while writing down some notes and completing assignments.

4. Lack of preparation
It can be challenging to focus on scanning the chat, delivering the content, and handling the technological aspect of the virtual training session, especially when using complex or new technology or managing bigger groups of learners. Just like anything else, it pays a lot to be adequately prepared. You can look for a moderator or Virtual Producer to help you focus better on facilitation. The producer doubles up as the platform expert and should understand the workings of the platform and how to operate it.

They should also be able to address technical problems to keep things running smoothly during your training sessions. In most cases, you will find technologically proficient and experienced Virtual Producers who can bring great value to the project. The producer will not only direct and manage the session better, but they also reduce the facilitator's workload to help them give undivided attention to the needs of the learners. When working with larger groups of learners, a Virtual Producer can assist you in ensuring a smooth session by:
Feeding you with relevant comments and questions

Handling all the technical hitches that might occur while on or offline and other unexpected challenges. For instance, you should not keep the entire group waiting just because one individual has problems logging in

They can serve as your timekeeper
5. Losing sight of the audience
As a Virtual Instructor, you should always keep your participants engaged. Here are some of the strategies you can use to avoid losing sight of your learners:
Check-in with your learners at regular intervals because they rely on the auditory content you give and can't read your body language when delivering the content. However, the opposite is true for the body language of your participants. You cannot tell when they require some more time to write down notes. Therefore, you should ensure to ask for them directly for feedback, especially when it comes to their comprehension level and the pace of your delivery.

Encourage social learning by requesting participants about their subject knowledge before the training session. You can test the level of their understanding and hone your presentation appropriately

Encourage learners to relax and participate. Since the learners may not be able to see each other, they might need your help to participate in the virtual session
Virtual Instructor Led Training provides more than clear communication between instructors and learners. Therefore, you should take care of the pitfalls of ViLT before delivering to avoid losing out on your audience. Getting creative with your training content and following the best practices of Virtual Instructor Led Training will help you realize positive and measurable results during your training sessions.

While Virtual Instructor Led Training can assist in creating a great learning experience, it promotes collaboration between learners as well. Therefore, by effectively implementing these training programs, you can seamlessly promote social learning amongst your learners. Applying essential design considerations and simple techniques will help you create and deliver fresh, engaging, and appealing virtual learning content that encourages your learners to collaborate and discuss.
Check out our FREE eBook Download 5 Tips for Selecting the Ideal Instructional Design Company for building your Virtual Instructor Led Training.