Picking the Right Instructional Designer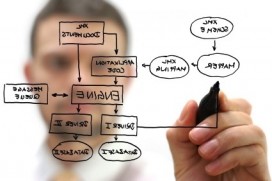 In the fast-paced corporate world, businesses are under immense pressure to quickly adapt to constant changes in technology, work process, industry standards and the current business climate. The best way to meet those challenges is to use advanced training techniques to create a high-performing workforce.
The question is, how will you meet the training demands of your organization?

Many enterprises turn to external training solutions. There are countless companies that offer general teaching experiences, or platforms but these present problems of their own. Because the courses are often designed for a broad application, they aren't well-suited to meet the individual needs of your employees, or the specific requirements of your industry or business. This disconnect causes workers to be disengaged, wasting time and money spent on training.
Download our FREE eBook - '5 Skills of a Great Instructional Designer' to get more information on Instructional Designers, and what to look for when hiring the right Instructional Designer for you.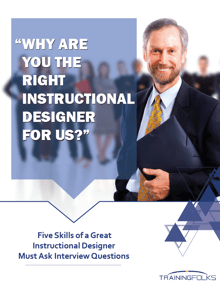 It is far more effective to have a training solution that is designed to fit the specific needs of your organization and its employees.
You can work with an Instructional Designer which is a cost-effective solution, allowing you to have someone capable of creating and executing the best customized training programs to suit the goals of your organization.

The Designer's Role
An Instructional Designer won't simply be an extra person in the room. This highly skilled professional can take ownership of the development and deployment of custom training programs.

Your designer isn't looking to disrupt working procedures you already have, but to enhance them. They will partner with your team to identify gaps in the knowledge or performance of your staff. They will also use their industry experience to suggest improvements and best practices to implement in your current training methodologies. They can work with leadership to create a dynamic training strategy that aligns with your business goals. Once these strategies have been implemented, the designer can evaluate the performance and effectiveness of the training and provide you with feedback.

The Designer's Skill Set
Numerous skills are required to successfully create and enact training strategies for the corporate environment. Depending on the level selected, an Instructional Designer will have a deep knowledge of your specific industry and hold relevant industry qualifications. They are experienced in working within the methodologies of ISO and Six Sigma.
They also bring experience with both the software and practice of project management.
A good Instructional Designer has solid experience in developing learning strategies, plans, and a full curriculum for different organizations.

Learning Delivery Planning
Your workforce may be dispersed across different locations, across the country or even working at home. Even so, an experienced Instructional Designer can develop courses to reach your employees using a variety of platforms. These include traditional classroom training, Virtual Instructor Led Training, eLearning and other bespoke options.
An Instructional Designer will create materials to accompany instruction using the most suitable tools for your needs. They can employ video, microlearning, and gamification to create optimal learning experiences for course participants.

While creating your organization's training coursework, the Instructional Designer will also take into consideration the learning styles of your employees. By including different methods of teaching, they can greatly increase employee engagement - a major challenge most organizations face when training their workers. They can work with you to evaluate what has been most effective in the past, and what improvements can be made in future training.

Continued workplace learning does not exclude corporate leadership. An Instructional Designer is well-equipped to create learning experiences that engage leaders and managers, while considering the time limitations that often restrain them. Leaders who have received up-to-date training in their fields are in the best position to steer their enterprises through the sea of changes they often face.

When you hire an Instructional Designer, you will reap the benefits of a well-trained workforce, without the exorbitant costs associated with using an outside firm.
Employees can be engaged, while considering their learning styles and physical locations. Educational experiences are tailored to your specific business needs, and strategies can quickly be adjusted as needs arise.
If you are interested in finding your own Instructional Design consultant professional to give your organization a competitive edge with a well-trained workforce, contact TrainingFolks to find the best Designer for your needs.
Download our FREE eBook - '5 Skills of a Great Instructional Designer' to get more information on Instructional Designers, and what to look for when hiring the right Instructional Designer for you.