Picking the Right Contract Trainer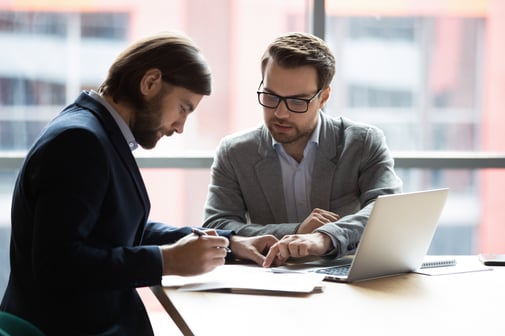 A contract trainer is a professional who provides specialized and exceptional training services to organizations. Many companies decide to outsource trainers to minimize the cost of hiring in-house staff, leading to reduced operational costs.
The contract trainer is responsible for having a thorough understanding of the training content (requiring various levels of specialization) and must be able to present it effectively by altering delivery style to match to the learning audience. The contract trainer works with various stakeholders to evaluate the success of learning programs and may serve as an on-site performance coach through consulting, monitoring and evaluating training results.

Before engaging a trainer, companies should always conduct their due diligence to ensure the person contracted for the job is the right fit for the position. Below are steps you can follow to create a seamless experience when looking for the right contract trainer!

Define the Role
Before hiring a contract trainer, you first need to specifically define what the person will be doing. This means you cant simply say 'your role is to deliver the training'. Be specific – what do you want to achieve? The trainer should be able to meet your goals within your expected timelines without compromising the quality of the training.

Write down the activities and tasks for the trainer. It should have aligned responsibilities that the consultant should accomplish. Remember, communication is vital. In this case, you should ensure whomever you hire can communicate effectively with the team for easy collaboration and ensure you achieve your goals before the training ends. You should also look for a consultant that has good organizational skills.
Below are responsibilities your trainer should handle:

• Participate in train the trainer activities
• Review content and practice to ensure effective delivery
• Some pre-program coordination activities required by trainer
• Compile pre-work or assessment results
• Prepare the training environment prior to session delivery
• Deliver learning sessions following the instructional flow of content material
• Use specific training tools to conduct the live sessions
• If in a virtual training event working with the use of a separate moderator to facilitate interactive hands-on exercises and answering questions
• Complete level 1 and level 2 learning session evaluations for participant reaction and learning
• Post-session phone and/or email follow-up activities as required
• Provide feedback on session improvements such as content, flow, exercises, activities

Remember, the contract trainer should be available to speak with you before, during, and after training sessions. This will help you evaluate your employees and determine areas of improvement. You will also be able to monitor the performance and each employee's response to the training.
Careful Selection
The training industry has thousands of trainers. Identify suitable candidates and have a list of about four or five as you narrow down on the most qualified.

Start by defining what you want the trainer to do. This includes mapping out the areas where you want your employees to be trained. After writing down your needs, expectations, and goals, you can start engaging the potential candidates in interviews.

Interview the shortlisted candidates and pick one with the highest qualifications, experience, and skills. The person's experience should be relevant to your area of focus to achieve your goals. If for example, you are training for Salesforce, ensure they have this experience.
If you are conducting a virtual training session, you can ask:
1. Have you worked within our line of business?
2. Do you have Virtual learning session delivery experience?
5. Do you have any Virtual Instruction Certifications?
6. Are you proficient using all components of specific virtual training tools?

During the interview, gauge the candidate's training capabilities and values. Before you sign the contract, verify the candidate's credentials from professional bodies and from previous references.

Additionally, let the consultant demonstrate their training modules and how your organization will benefit from them. An experienced trainer should stimulate your team by offering effective services that will make every employee focused productive and engaged.


Experience
This is among the most critical areas when hiring a contract trainer. You want to work with someone whose experience aligns with the project you plan to launch. In short, the contract trainer should possess specific skills to enable the training to run smoothly and become effective.

For instance, if you plan to invest in new software, it is best to train your employee on how it works. So, the person you hire to train your staff should have adequate skills and experience in training other people about that specific software and relevant topics.

When the person climbs the stage, he/she should create a warm and conducive environment for every person in attendance. An experienced trainer should be able to demonstrate this with confidence.

So, if you want the best out of your project, avoid going for freshly certified trainers who do not have years of experience in the field. You want value for your services and getting an experienced trainer will give you a bang for your buck!
Looking to hire a Contract Trainer, but not sure where to begin? Download our FREE Facilitator Evaluation Checklist - a helpful tool used internally by the TrainingFolks Team.