WHY USE A NEW EMPLOYEE ONBOARDING CHECKLIST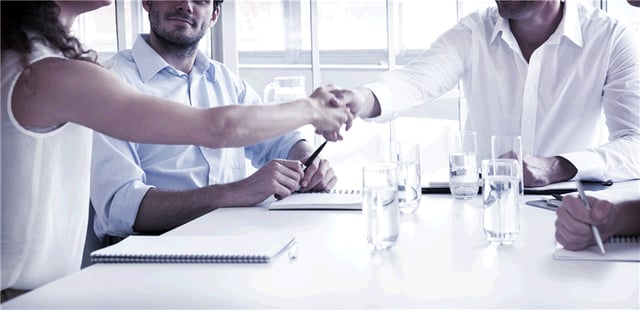 After an extensive recruitment and interview process you've hired that ideal employee. She has impressive skills, brings a positive attitude, and seems to fit well with your team and company culture. You're anxious to get her up and running as quickly as possible! And you may be tempted to skip the new employee onboarding process. Do so at your own risk!
Employee onboarding is the process through which new employees are introduced to the necessary knowledge, skills and behaviors that will allow them to perform at the optimum level within your organization. Some of the most critical aspects include corporate mission and values, culture, systems and people. A successful onboarding program can improve job satisfaction, lower turnover rates and positively impact the bottom line.

Onboarding is more than ensuring the new employee's computer and cellphone are working on day one, introducing her to team members, and giving her a copy of the company's orientation handbook to review. The most successful companies view new employee onboarding as an important corporate training initiative.
A new employee onboarding checklist is a helpful tool that can assist you in evaluating your current process or launch a new program. Here are five areas to review.

Be strategic. More than just defining the role, explain to the person how her position fits in to the overall company strategy. The more you can relate the "big picture" to the daily role, the more meaningful the training will be, and can accelerate the time it takes for the person to get up to speed.

Outline learning objectives. While there is some training general to the company that all new employees will require, other types of training are role specific. Determine the training each new employee will require, and put together a training plan. To ensure employees retain the information and are not overwhelmed, schedule various training over the first few weeks or months if possible. You can incorporate different training formats such as in-class or eLearning, supplemented by mobile learning and microlearning to reinforce the training content.

Set SMART goals. Based on the position and the learning objectives, set SMART goals for one month, three months and six months, or whatever intervals make sense for your organization. Identifying specific tasks and timelines helps the person manage their responsibilities and understand the expectations.

Evaluate performance. Based on the learning objectives and goals, provide the employee with feedback. Use both formal and informal feedback as part of the onboarding program. Regular and ongoing evaluations allow you to determine if the person is meeting their objectives and achieving goals, or can identify issues early so they can be dealt with before they become a problem.

Ask for feedback. Make the evaluation process a two-way street by asking the new employee for feedback as well -- a fresh set of eyes can help to uncover improvements you can make to your onboarding program. When an employee feels she matters and is comfortable asking questions, it sets up everyone for success.

For more information on how to launch a successful onboarding program or improve your existing process, download 7 Tips for Onboarding Success. This resource provides a new employee onboarding checklist you can follow to ensure your company has covered the most important criteria for effective employee onboarding.