Gone in a Flash: Planning Your HTML5 eLearning Conversion
Tips from Your Corporate Training Company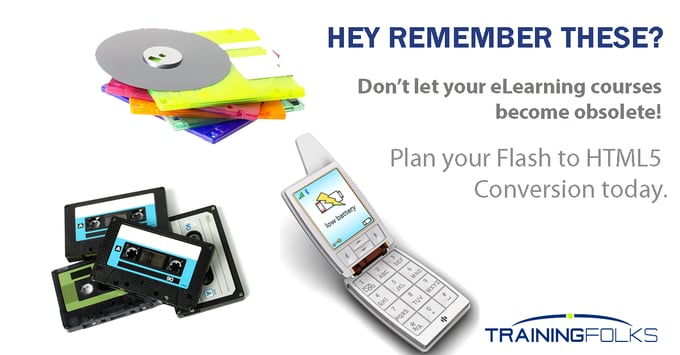 As a learning and development professional, you likely know that Adobe will be phasing out its Flash product by early 2020. For over 20 years, Flash was the most popular software used by developers to create games, videos and other multimedia content for online consumption. It has also been widely used for eLearning course development. In recent years, other technologies such as HTML5 have been launched as alternatives to Flash.1

To maintain online content from advertising to gaming, and of course eLearning, organizations are actively planning for HTML5 conversions. HTML5 provides a more flexible and robust learning experience for employees. They can access training programs where and when it is convenient for them, on their device of choice including Apple.

So, what does the Flash phase-out mean for your company? Well, it could mean that your eLearning courses with Flash components could be obsolete once Flash is phased out and no longer supported.

To keep your learning and development programs up and running to maintain your training schedule, you will need to convert your courses to HTML5 prior to the 2020 Flash phase-out. This gives you the opportunity to clean house and upgrade your current learning and development content.

The good news is that although it will be challenging, HTML5 eLearning course conversion is manageable with the right plan and team in place. The outcome is based on your organization's ability to move quickly through planning and executing the best options for you.

To start, take an inventory of your courses and identify which courses have Flash components. Once this has been done, you can sort them into categories:
Courses with Flash components that can be migrated directly to HTML5.

Courses with content or visuals that will need to be updated prior to conversion.

Legacy courses that are no longer relevant and can be retired.



Other items you will need to consider are a needs assessment, instructional design and LMS.
To help you plan your Flash to HTML5 elearning course conversions, down the eBook "Mapping Your Way from Flash to HTML5". It outlines the steps you need to take to plan your migration project, including the background materials, tools, and resources. Depending on how large an initiative it will be in your organization, you may be able to handle it in-house, bring in contract training professionals, or deploy a hybrid team.
The 2020 deadline is just around the corner. Download the eBook and begin planning your Flash to HTML5 eLearning conversions today.

1 The Guardian: Adobe to pull plug on Flash after years of waning popularity