How to Implement Salesforce Lightning Training to Ensure High User Adoption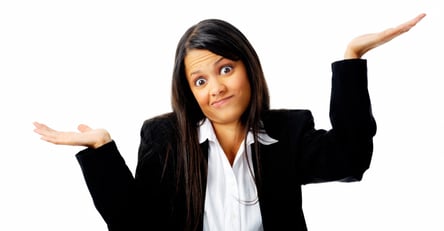 What is Salesforce CRM and Salesforce Lightning?

IT, business services, manufacturing, retail, healthcare, finance, and telecommunications businesses all utilize Salesforce in their organizations. Salesforce is a customer relationship management software (CRM) that helps companies manage their relations with clients. It helps companies connect with their clients, streamline processes, and increase profits.

CRM solutions will help you build relationships with customers, colleagues, and suppliers. This includes making proposals for business opportunities, finding new clients, and providing additional services as the relationship grows.

Salesforce organizes client information in a manner that helps you find and keep new clients and grow your business. Clients' contact information and social media data are collected as well as preferences on methods of communications. It then builds records of individuals and organizations so that you can have a record of communications and business over time.

Salesforce CRM solutions can be connected to other business apps to integrate information and use tools such as accounting, billing and surveys. Salesforce intelligence also performs administrative tasks, saving personnel time to be utilized for other tasks. Its insights will also help anticipate how potential leads will feel and act so that you can tailor your outreach.

Salesforce Lightning is a new platform that differs significantly from the classic Salesforce Platform with more features intended to improve sales productivity. Updated features make selling easier and more personalized so that worker's productivity is boosted by up to 10 hours per week.

Salesforce Lightning Training will gives you better data about business performance so that you can better engage with your clients. Companies who have implemented Salesforce Lightning training saved on average about 25% of time spent on customization. Finally, artificial intelligence with Einstein helps identify trends and use analytics to make predictions and expand your business.

Three Reasons Why You Should Train Your Employees

Salesforce instruction is essential to ensure the success of your business. When faced with a potential new client, you must be prepared with product information, client preferences, and pricing. Having Salesforce products available is an important component of sales success but spending time and money to train personnel is also important. If they do not understand how to use the software or are unaware of their features, employees will not be able to maximize benefits. Essentially businesses are losing lead and sales opportunities because they have not effectively trained their team. Below are some common reasons why businesses should train their employees in Salesforce software.

1. Under Utilization of Sales Software Resulting in Lost Profits
The clearest benefit from investing in Salesforce training is the return on investment. It introduces employees to new features and features that were under-utilized in the past. This increases the overall productivity of the company leading to higher profits. Therefore, when you look at the big picture the return on investment for Salesforce instruction is high. You incur a one-time fee in exchange for a lasting increase in profits.

2. Unclear Employee Understanding of the Value of Salesforce
If employees do not understand how to effectively use Salesforce, their morale may decrease and rates of user adoption may drop as they look to other methods of sales and client management. Improper or bad training experiences can result in work inefficiency and decreased interest in job functions. Taking the time to explain how Salesforce fits in the larger picture will empower your employees and result in higher user adoption rates.

3. Pockets of Salesforce Experts
In this problem, there is a group of employees or members of management that are proficient users of Salesforce and know how to utilize it to ensure that essential functions are carried out. However, this group may be small so that if one of those "experts" goes on vacation or leaves the company there will be a major problem. Teaching each member of your company to use Salesforce allows employees to step into new roles and take on sales opportunities if their co-workers become unavailable.


How to Ensure a Successful Training

Making sure that your employees have a successful salesforce training session means extensive planning and a customized approach. Also, planners should ensure that there is an engaging method of delivery and post-training follow-ups.

Working closely with a training consultant will help you better understand the goals and priorities for your training session. Talk with your employees to see which applications and business processes they are currently struggling with and take a training needs assessment. Employees and training staff should be in contact well before the date of the planned training.

There is no cookie-cutter training session that will address all your company's problems. Planners should work with the training program to ensure that training content targets the specific needs of the company. Ensuring that training materials and plans include real-life examples and address how specific situations within a company should be handled is essential.

Another important component of successful training is a method of delivery that is engaging. The least successful training is usually dull and involves a single person talking through a long PowerPoint presentation. An effective training session will engage the audience and make the session fun.

It is important to ask participants questions and allow them to demonstrate that they are retaining knowledge. You should also carefully consider the many ways that training sessions can be conducted including Instructor Led Training (ILT), Virtual Instructor Led Training (vILT), and training of internal company training staff (train the trainer).

Finally, you should consider how you will follow-up on the training session. Training services can provide you with post-training tutorial videos that team leaders can look at with their employees in weekly meetings. It could also include uploading customized articles to your company's learning management system for future reference.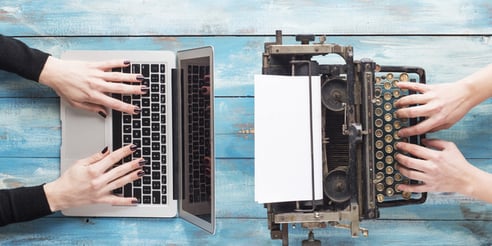 Ensuring High Rates of User Adoption


Focus Your Training on the Core Functionalities

Concentrating training on the Salesforce functions that your employees will use the most ensures that people can immediately apply the training to their workloads.

Select a Training Mode to Suit your Needs

If a user will only use a Salesforce function occasionally, then it may be best to give them reference materials or eLearning materials. In-person ILT or vILT training should apply to core functions that will be used consistently.

Allow Employees to Practice Before/During Training

Companies should give their employees access to Salesforce Software before the training session so that they can look through the program before the training and come prepared with questions.


A successful Salesforce training program will result in high rates of user adoption and increases in productivity. Salesforce is a sophisticated software and CRM with many useful features that is constantly adopting innovations and technology advances. Users should receive extensive training to ensure that the potential of your employees is maximized. In designing a Salesforce training program, you should pay careful attention to your session goals, the structure of the session, and how you will follow-up on your training.

Download our free eBook '4 Ways to Successful Salesforce Training' for a useful guide that walks you through creating a truly engaging Salesforce Training experience.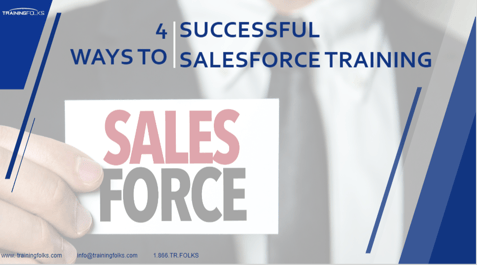 4 Steps to Define Your Business Use Case