Designing Virtual Instructor Led Training (vILT)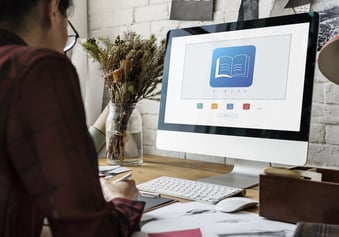 Virtual programs are one of the most popular kinds of training options for a reason. Unlike traditional programs, you can train employees who are working anywhere around the world. Because the training takes place virtually, you can easily create a consistent learning experience for a dispersed audience.

Designing virtual instructor led training has become a more practical option in recent years because there are more online virtual training/meeting platforms. As well as, people are more accustomed to working and learning at home, so they understand the format.
What Is It?
Unlike eLearning or recorded videos, vILT programs involve a live trainer with the participants. These programs include breakout rooms where participants can interact with each other and the course material. They can also be designed with voting tools, face-to-face video communication and annotation features.

Ideally, your program will include virtual options for presentations, images, and videos. With the right approach, virtual instructor led training can be used for training sales teams, new employees, product launches, compliance training, new technology and continuing education, etc.


Tips for Designing Virtual Instructor Led Training
Make Your Program Concise and Interesting



Most people can't focus for long periods of time. In order to keep your participants engaged, aim to schedule each session no longer than 60-90 minutes. During these programs, participants can take breaks as needed.





During breakout sessions, learners can go to separate virtual rooms for brainstorming or working on team activities. They can also use this time to chat and interact with fellow participants. Other than keeping employees engaged, breakout sessions are also a great way to help remote learners bond with their fellow co-workers.
Create an Interactive Program

When designing

virtual instructor led training

, it's important to encourage group interactions. Because participants cannot bump into each other at the water cooler, you must deliberately plan for interactivity. For example, you can arrange for breakout rooms that can be used for planned activities or open-ended chats.

Other ways to plan for interactivity include; screen sharing, Q&A's, whiteboards, and more. At the end of each session, you can also provide an assessment to confirm learning.



Use Customized Content to Make an Impact

You should customize your content for vILT programs. When designing virtual instructor led training, many companies simply record their traditional sessions and move on.

With a vILT course, design should be kept in mind. The balance of graphics and text is important as it creates a more engaging training course. Make sure the slides are uncrowded so that students can easily follow along. Additionally, group interactions and feedback should be deliberately planned out based on the course's format.


Encourage Sharing



Finally, you should encourage information sharing in virtual classrooms. These platforms have plenty of methods for sharing documents, presentations, and images. Additionally, you can record sessions for students to easily catch up if they miss a session or want to review important information.





Ready to get started with Virtual Instructor Led Training,
but not sure where to begin?

Get our FREE eBook
Download: '11 Steps for Creating Virtual Instructor Led Training'