Components of a Training Needs Assessment
The Importance of a Training Needs Assessment and Learning Strategy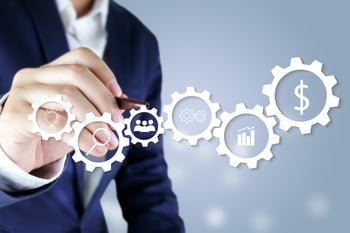 Change is necessary for organizations to succeed and grow. This requires the right technology, processes, and individuals to ensure opportunities available through change can be maximized. If you do not have time or resources to conduct a training needs assessment, you can still complete your project and release training to your employees, but without a corporate Training Needs Assessment, will the training achieve the objectives you wanted it to?

Training Needs Assessments will help you to make decisions about who needs the most impactful training, what that training should be, and how you can measure your success without spending money, time, and productivity you can't afford.

Uncovering Your True Training requirements

When a leader or employee is working closely with a project, they often believe they know what the training need is or will be. They may not be taking other factors into account that should be addressed.
When you have an objective instructional designer to work with, the right questions can be developed to help uncover the real issues and not just the symptoms of the problem that can be seen or felt.

Determining Which Employees Require Training

With a training needs assessment, employees requiring training can be identified and both training levels and ways of delivering that training (often called a 'modality') can also be determined to meet the needs of every audience The knowledge and skill levels of every employee is different and an experienced instructional designer can help create pre-testing to prevent needless training for those who already have proficiency while providing additional learning opportunities to the less skilled.


Determining Specific Tasks to Perform the Job

Task analysis done by an instructional designer and technical writer can document the right way to do a job and make effective training and operating procedures clear for everyone, not just the person doing the job. This helps you with the identification of necessary skills and knowledge for closing the gap between your desired performance and the current performance.


Types of Training Needs Assessment

1) Organizational/Strategic Analysis
During an organizational or strategic analysis, training is aligned with the resources and business strategies of your company. The benefit of this type of analysis is an overall roadmap for the organization to enable its people to pivot quickly to the changing needs of the organization and its customers. The organizational or strategic analysis can be executed over a defined period of time and provide a way for the organization itself to build resilience – something that has become increasingly important in this current environment of global work.

2) Role Analysis
Role analysis is done to ensure that the right capabilities and the skills that make up capabilities are current and reflect the needs of the role and the business. This type of analysis is required when a role is changed or begins to impact new areas within the business. Role analysis also often involves developing a pipeline of capabilities to ensure that continuous development is possible for employees working in that role and beyond
3) Task Analysis
Conducting a task analysis involves the identification of the tasks that fit into skills, which move to proving employees are capable in their roles. Task analysis is most easily seen in specific technology training or in security training or customer service training.

How Can You Complete a Training Needs Assessment?

Completing the steps necessary for a training needs assessment means you must ask important questions to address some key problem statements, including:

1. What seems to be the problem at its root (a new/changed/removed product, process, system, model, management, machine?)
2. Is it a people, process, or strategic problem?
3. Why is this an issue? How long has it been an issue?
4. What would success look like if you solved this problem?


Five Ways Your Employees Will benefit from a Needs Analysis

You can achieve your objectives in five different ways by using a training needs assessment to make certain your training is effective.

1. Ensure You Address Real Business Objectives and Goals
Your project leader or manager may believe they have correctly identified the training required for the necessary course of action, however; when the right questions are asked by a skilled instructional designer, a completely different issue may be detected. To make certain the program meets the outcome you desire, it may be necessary to change your training plan.

2. Saving Money and Time
You can save money and time by making certain the correct training program has been developed and delivered. Imagine creating training, only to realize half way through the course that it doesn't address your intended outcome because you built a course to address a symptom but not the problem itself!

3. Improving Retention and Learning
It isn't just the content that is assessed with a training needs assessment, a picture of the intended audience is also delivered. This enables the content of the course to be personalized for a specific audience which offers more relevance to your audience, increasing learning retention and improving outcomes. Different methods of delivery might be explored by the trainer to improve the learning process depending on your target audience.

4. Improve employee retention and satisfaction
A training needs analysis helps you to get to the bottom line of a problem and communicates to your employees that you are really listening and looking for solutions to their working challenges. Providing the right training at the right time shows your employees that you are ready and capable of meeting their needs. Employees who feel like they are being heard and are being trained properly will feel greater empathy toward the organization and improve employee retention scores.

5. Benefitting the Bottom Line
Successful programs for corporate training designed with a training needs assessment provides your organization with a plan to give employees the abilities, skills and knowledge required to improve their performance on the job. The result of this is meeting the goals of your organization through greater productivity.


Want to get started with a Training Needs Assessment, but not sure where to begin? Start with our FREE Download!
'Questions to Answer for TNA Success!'