Top 5 Custom eLearning Development Programs / Authoring Tools
Custom eLearning developments, along with their counterpart software, have undergone rapid growth in recent years. With so many software options today, shouldn't your custom eLearning development life be easier too? As eLearning continues to gain popularity, it seems impossible to remain updated on the many different authoring tools available today. As eLearning developers are in search of the latest authoring tool to help engage their learners, they become inundated with product details. With so much information available, how do you begin sorting through it all? Can you come to a decision and be sure of it without losing a full-day of work?
To ease the process, we compiled a list of the Top 5 Authoring Tools available today. They are: Articulate Storyline, Adobe® Captivate®, Articulate Studio, Trivantis Lectora, and Adobe® Flash®. These tools should do the trick in helping you create and maintain an eLearning program.
Decisions are based on four critical criteria:
o Features of the Authoring Tool
o Customer Demand
o Capabilities of the Authoring Tool
o Ease of Use

Articulate Storyline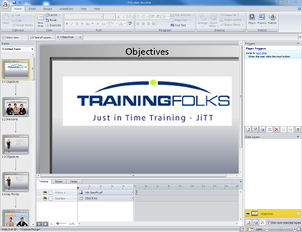 Upon its release, the award-winning Articulate Storyline created a huge buzz in the custom eLearning development world. This comes as no surprise, as Articulate promotes itself as having the largest and most active eLearning community in the world! Articulate Storyline is the first custom eLearning authoring tool that grows with the user and is ideal for those who want to author a course with a single standalone product. Its remarkably powerful software helps create compelling custom eLearning courses with extraordinary simplicity for practitioners at any level.
Ability to develop and publish interactive custom eLearning content through multiple platforms and formats, including Flash®, HTML5, and iOS

Features like slide layers, screen-recording, software stimulation and triggers allow users to create virtually any type of interactivity

Character library with tens of thousands of expressions to help keep the learner stimulated and engaged

Ability to create virtually any type of quiz, course, interactive content, or software stimulation

Simple enough for beginners, yet powerful enough for experts
Articulate Studio

Articulate Studio has the ability to transform Microsoft® PowerPoint presentations into
interactive custom eLearning development content. With Articulate Studio, practitioners have the ability to author courses primarily within the PowerPoint environment. Articulate Studio makes it easy for anyone to add interactivity and narration to slides, with just a few steps. Custom eLearning development designers have the ease of creating quizzes, courses, and interactive content with the familiarity of PowerPoint functions.
Custom eLearning developers have the ease of creating quizzes, courses and interactive content with the familiarity of PowerPoint functions

Ability to create compelling presentations in the universally accepted Flash® format

Compatible with SCORM- or AICC- compliant learning management systems

Powerful quiz-building and publishing features require no programming experience

Adobe® Captivate®

eLearners today expect a really rich multi-media experience when they log onto their courses. They get exactly this with Adobe® Captivate®. Here, we have a tool that creates a complete custom authoring environment. With Captivate®, eLearning instructional designers can customize that Just-in-time eLearning solution, and simply deliver it to any platform device by just clicking 'Publish'. This is a tool that captures all the applications needed on a computer system to create a full quality, high definition video for any learning experience.
Ability to publish to HTML5, allowing users to make lesson content available on a desktop, tablet, mobile device, anywhere!

For those using YouTube as a content distribution platform, Captivate® offers a single-click publishing tool for easy and quick uploading

Make courses come alive with actors, themes and interactive elements. Include eye-catching quizzes, add branching scenarios and publish to desktops, mobile devices and LMSs

Smart learning interactions allow even novelist designers to create some really compelling interactions in their content

Trivantis Lectora

Trivantis Lectora is a known industry leader in custom eLearning development. It not only has a reputation of being the most powerful authoring software, but also as being very user-friendly. From point of conception to final content review and collaboration, this all-in-one authoring tool can tackle any custom eLearning development challenge. Loaded with easy-to-use tools and the power to create almost anything imaginable, Trivantis Lectora benefits seem to be endless.
Strong HTML platform available on multiple platforms (i.e.: tablets and smart phones)

Compatible with Mac or PC – anywhere you have internet access!

Develop powerful and creative course content with zero experience


Adobe® Flash®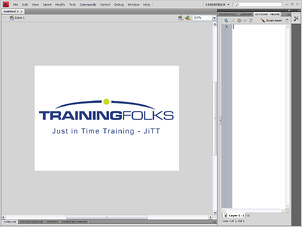 Adobe® Flash® is a cross-platform browser-based application runtime that delivers uncompromising viewing of videos, content, and expressive applications. Flash® has been used for many years as a tool for custom eLearning development, and requires a developer with programming knowledge. As the world's most powerful runtime, Flash® lets you effortlessly reach over 13 billion people across native browsers and PC OS versions with no installation required! This application is also available on Apple OS versions with add-on software.
Powerful authoring environment for creating animation and multimedia content

Allows for creation of rich, interactive experiences and animations for desktops, tablets, mobile devices and even TV's

Ability to create content and animations for use in HTML5