What are the skills of an Instructional Designer?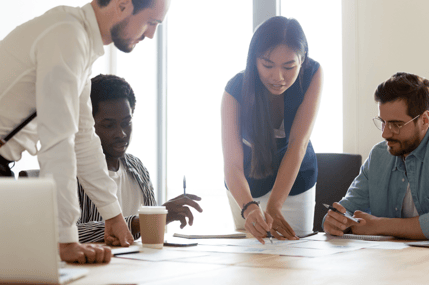 Instructional Designers are an essential part of any training program. Whether in schools, universities, or businesses, they play a critical role in the learning and development space.
An Instructional Designers role is to create learning experiences that are beneficial to learners and provide them with the tools they need to succeed. It is important to ensure that students understand everything they are being taught. Also, ensuring the learning process is easy, fun, and effective. They often develop new ideas and help shape how new technologies can be used in the physical or virtual classroom!

With the increase in technology use in almost every area of our day-to-day life, Instructional Designers are in high demand and an integral part of any training program. They help to ensure that the information provided to students in training stays relevant and valuable. Institutions and businesses can focus their efforts on providing the most meaningful training to their target audience.

So, what are the skills of an Instructional Designer?
Skills of a good Instructional Designer
Knowing the core skills is a great place to start when hiring for your next training initiative. A good Instructional Designer will have many responsibilities that are directly related to the projects they are given. If you plan to work with an Instructional Designer it is important to look for their specific skills. How will these skills contribute to the project you are working on?
Understanding Learning Models
When hiring, you should speak to your Instructional Design consultant about what learning models they work with. These learning models are the foundational principles in addressing learners' needs. Some examples of learning models are:
ADDIE (Analyze, Design, Develop, Implement, and Evaluate)

Bloom's Taxonomy

Individualized Instruction

ISD (Instructional Systems Design)

SAM (Successive Approximation Model)
They can select the appropriate learning model that they feel is the best fit for their learners needs. Take some time to understand these models, and how they would impact your learning initiative.
Experienced in Technology
When it comes to designing a project, Instructional Designers use various programs. It is beneficial if they have experience in creating and managing projects across a wide variety of platforms. This will give you an idea about their skills and experience. These programs include:
Adobe Captivate

Articulate Storyline

Articulate Studio

Articulate 360

Other standard programs, such as Microsoft PowerPoint, Adobe PDF, and other cloud-based tools
Take some time to get a better understanding of their technical ability, and what platforms they use. You want to ensure that they are well versed in all aspects of the application to minimize any issues that may arise.
Excellent in Presentation Skills
An Instructional Designer uses their skills to help educate others. A designer's primary focus must be on how an educational design project will affect stakeholders organization. Their job will require them to work closely with stakeholders and Subject Matter Experts (SMEs) to ensure that everything runs smoothly.
Talented in presenting materials visually and artistically
Instructional Designers must know how to think creatively and solve problems. In most cases, the answer to any problems that may arise cannot be found a textbook. Learning how to think creatively will require the designer to use their communication skills while designing the project. They should identify the problem, develop an appropriate solution, and implement it in the best way possible. In addition, designers should present materials to meet different learning styles.
Excellent project management skills
In the world of project management, problem-solving is crucial. For a successful project, there must be a plan in place. Instructions are given to workers and a way to measure progress. When looking for what skills you should look for in a designer, keep this in mind.
Excellent communication skills
The ability to communicate well with others is essential to a successful design job. A designer must be an excellent communicator. Stakeholders will be expected to read, write, and listen to instructions in a typical classroom setting. They will need to interact with teachers and other students to understand the concepts presented. Communication skills will take precedence over all others.
Experience in Instructional Design
This may sound obvious, but you want someone who can get the most out of every project. A designer who has participated in numerous design projects will have a very complete picture of how things work and what can be done on a given topic. They will know what strategies work best to present the material, what information needs to be covered, and how best to put those concepts into practice.
Ability to work with stakeholders
The ability to work with stakeholders is an important skill to have. A designer who can meet these requirements will be a valuable member of your organization. The skills of an Instructional Designer will be a key contributor to your efforts to improve participation and quality. A good designer will also be able to demonstrate that they are engaged with ongoing professional education and have a strong interest in current trends. Their knowledge of technology and a background in education will help them present an idea incorporated into your organization.
Need help finding the right Instructional Designer for your organization?
Contact the experts at TrainingFolks!
Get our FREE eBook download
'Why are you the right Instructional Designer for us?'
for a step by step guide.