TrainingFolks Named Among Top Training Companies
YOUR CORPORATE TRAINING SERVICES PROVIDER
As the most trusted source for information on the business of learning, Training Industry prepares this annual list to highlight the best providers of training services and technologies in the market.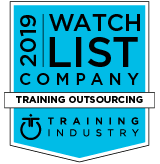 Selection to the 2019 Training Industry Top 20™ Training Outsourcing Companies List was based on the following criteria:
•Industry visibility, innovation and impact
•Capability to deliver multiple types of training services
•Company size and growth potential
•Strength of clients
•Geographic reach
"This year's Top 20 Training Outsourcing Companies are an exceptional group of organizations that offer innovative approaches to providing content development, training administration, training delivery and technology management services," said Ken Taylor, president of Training Industry, Inc. "These companies integrate best-inclass point solutions to develop comprehensive, engaging learner experiences that drive the outcomes the business needs."

TrainingFolks has been leading the industry with customized training solutions for over 20 years. With a network of over 30,000 learning professionals including instructional designers, contract trainers and facilitators on the team, the company continues to provide highly skilled training professionals worldwide.
Matthew Davis, CEO and Co-Founder of TrainingFolks, is thrilled the company has once again been recognized by Training Industry for this honor.

"TrainingFolks is constantly striving to find innovative ways to deliver comprehensive content and engaging training solutions for in class, vILT and eLearning challenges," says Matthew. "Thank you to Training Industry for recognizing our efforts and selecting us as part of this impressive group once again. We look forward to continuing to provide the highest level of service to our valued clients worldwide with the dedicated expertise of our learning professionals, employees and partners."

What can a corporate training company do for you? Learn more about the impactful learning and development solutions and services that TrainingFolks offers today.