AWARD: Top Training Company TrainingFolks Named to the 2015 Training Outsourcing Watch List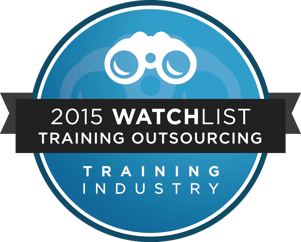 Cary, NC (April 16, 2015) – Top training company TrainingFolks, a global provider of custom learning solutions, consulting and contingent workforce services, announces today that they have been selected for the 2015 Training Outsourcing Watch List from TrainingIndustry.com.
This annual list recognizes the best providers of training services and technologies as its mission to continually monitor the training marketplace. Selection to this year's Training Outsourcing Watch List was based on the following criteria:
Innovative service offerings

Ability to provide services on a global basis

Unique and proven approach to Business Process Outsourcing (BPO) solutions

Quality of client served
"This year's Training Outsourcing Watch List demonstrates the continued growth of this segment and the emerging competition," said Ken Taylor, President,Training Industry, Inc. "The organizations on the Watch List are making great strides to provide quality and innovative services for their strong list of clientele."
"Business Process Outsourcing is a key part of the training industry and this year's Watch List exhibits the necessary strength and capability of companies to compete in that segment," said Doug Harward, Chief Executive Officer, Training Industry, Inc. "These companies are able to deliver superior learning service solutions that meet the content, administrative and technological needs of a constantly evolving market.
"My team and I are honored to have made it to the 2015 Training Outsourcing Watch List" says Matthew Davis, CEO of TrainingFolks. "This accomplishment is in direct correlation to our continued desire to develop and deliver the latest in training services and technologies to Fortune 1000 companies on a global basis. We are very proud of what we have accomplished over the past 20 years."
Implementing a new technology across your organization?
Download our Technology User Adoption Checklist today!