Thinking About Becoming a Contract Trainer?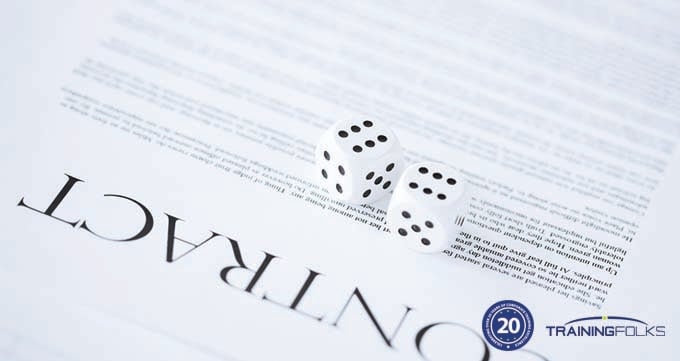 If you've been working in a permanent, full-time learning and development job, going contract can be a huge change. Before you make the leap to a contract training professional role, here are five key things you should know.
Flexible schedule
One of the best things about working contract is that you have more control over your time. When working for yourself, you can set your own schedule which can lead to better work-life balance. Just be sure you are well organized to be sure you meet your deadlines.
Running your own business
Working for yourself means being your own boss. You will need to do the work for your clients as well as take care of tasks such as advertising and invoicing. Before going contract, do your research into items such as registering your business, collecting and paying taxes, and the expenses you can claim related to running your business. It is a good idea to enlist the help of an accountant who has experience in these matters and can help you get set up for success.
Finding work
When working contract, you will have to find jobs on your own. Be sure you have a strong resume that will stand out from others. Invest time in building your network as this will allow you to make connections that can lead to contract work. Using social media channels such as LinkedIn is one way to grow your network and connect with people at companies you would like to work for. Registering with a consulting company specializing in your industry is a great way to find work as they are always looking for good people to fill roles for clients.
Expand your work experience
If there is a company you've wanted to work for contract work can provide this opportunity. You can work with the company for the term of the contract to learn more about the culture and nature of the work and if you don't like it, can leave at the end of the contract. Should you want to continue to work for the company, there is often a chance the contract could be extended. Also, experience at an industry-leading organization always looks good on your resume.
Job Security
One of the biggest differences is that unlike being an employee, you are not always in the same place working for the same company. You may choose to take a contract for several weeks or months with one company, or work on several projects at the same time for a variety of organizations. You should also be aware that you can be out of work for periods of time because once a contract or project wraps up, you may not find your next one right away. Also, in some cases a project may be terminated and you will be out of a job.
At TrainingFolks, we are always receiving requests from our Fortune 500 clients for Contract Training Professionals. Submit your resume today.
Follow us on LinkedIn to be sure you don't miss any tips on how to succeed as a Contract Training Professional.