How to Use Adobe Connect for your Virtual Instructor Led Training ViLT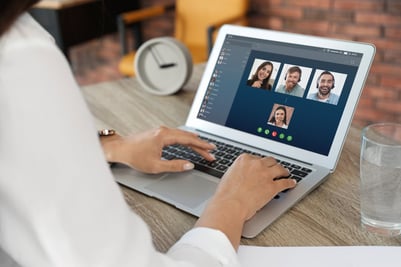 Adobe Connect

is a web conferencing and virtual classroom platform used by thousands of companies and universities worldwide. Using Adobe's software, companies can create online training materials and learning modules, conduct webinars, and participate in online meetings complete with desktop sharing.
There are many software platforms on the market for running virtual meetings such as Skype, Webex, Zoom, Adobe connect etc.  Not only can these software programs deliver virtual meetings they can also be used to deliver virtual instructor led training (ViLT).   Offering virtual classroom training is a MUST in today's global environment.
Here are some of the key features when selecting Adobe Connect.
It is customizable. You can design your virtual room and create personalized experiences. As the meeting host, you have complete control of the virtual experience. Layouts are a unique feature of the Adobe system that allows you to create pre-set versions of your virtual classroom experience. Once you have your templates pre-set you can use them and move the various pieces around. You can choose your background images, create as many pods on the screen as you like, and size and move them easily.

It is engaging. The ability to create unique layouts for different parts of your training helps keep the viewers engaged in all aspects of your presentation. It lets you take full advantage of all available learning technologies. Viewers can watch videos and slides, share their screens with other participants, and participate in breakout rooms, polls, quizzes, simulations and games.

It is persistent. The virtual rooms you create persist. All the rooms you create, all the content you add, and all the notes you take will be available to you in future meetings. Once you create your ideal virtual room, you can save it as a template. This saves you time and money as well as giving your participants a feeling of continuity and familiarity.
It is powerful. As the host, you have many powerful features that give you added confidence and control. For example, you have a presenter only area that allows you to collaborate with other hosts and presenters. You also have the ability to add custom apps to your rooms in much the same way you add them to your smartphone. This lets you add support for closed captions, games, utilities and even unique icebreakers.
If you have a large group of people you need to train virtually, Adobe Connect is a good option for you. It has power, flexibility and a proven record of accomplishment. It was named the Best Virtual Classroom Software G2 Crowd 2020 and received the Best Virtual Classroom Best of Everything Award. Many training consultants consider it to be the most secure, extensible and feature-rich software currently on the market. You need an expert Adobe professional to set up your initial template and then some training on how to move tiles and get the best from the feature-rich environment.
Do you have Instructor led Training that needs to be converted to Virtual Instructor Led training?

Do you have complex Virtual Instructor Led training and needs assistance managing the experience by a technical producer? producer?

Do you need a contract Virtual Instructor that can help deliver these courses to your employees?
TrainingFolks Can Help!
With experts from around the globe in the ViLT environment, TrainingFolks can provide you expertise to make the transition to virtual classroom learning easier.  One of the biggest obstacles that we see are companies who have excellent in-person training programs, but do not have the in-house capability to use all the available technology to recreate this training in a virtual environment. 
Having an instructional designer who knows how to use Adobe connect and its full virtual classroom features is critical to giving your employees the best possible experience.  For example, understanding that a template has layouts and layouts have pods.
A template could be a classroom for example, which would have pods such as: polls, downloads, presentation, and whiteboard. You can maximize any one of these pods to make it the most prominent 'object' on the screen when needed.
The breakout rooms are another layout typically called 'Analysis'. This layout gives you the ability to simultaneously work on something like a spreadsheet or use a whiteboard to figure out a solution.
You would set up a template series (they come out of the box for classroom and meeting) so you can use that again and again with persistent content - which is the feature most companies really love because it drastically reduces the set up and producer management time (unless you have more than 2 speakers - then its very tricky)
As an award-winning custom learning solutions company, we have worked with many medium and large companies with proven results. We know how to use Adobe Connect to create the best possible virtual classes for your company's training needs. 
Contact us to speak with one of our Senior Learning Advisors.