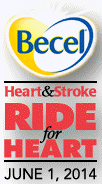 TrainingFolks Rides for Heart - Your Support Counts
Heart disease has touched the lives of everyone in some form, whether individually or through a family member or friend; 9 out of 10 of us have at least one risk factor for heart disease or stroke.
Fact:
Every 7 minutes someone dies from heart disease and stroke.

Heart disease is the leading cause of death for both men and women

1 in 4 deaths is caused by stroke or heart disease
At TrainingFolks we are showing our support by participating and fundraising for the Becel Heart&Stroke Ride for Heart on Sunday, June 1, 2014.
Help TrainingFolks prepare for the ride

Our support will help the Heart and Stroke Foundation to achieve its 2020 goal of reducing the rate of death from heart disease and stroke by 25%.
The funds raised will be used to support life-giving research, social change programs and health information initiatives, moving the Heart & Stroke foundation closer towards its ultimate goal of eradicating heart disease and stroke.
TrainingFolks is a global provider of custom learning solutions, instructional design services, training consultants, and contingent workforce services. Combining award-winning adult learning experience with a proven engagement methodology that includes a talented network of learning professionals, we collaborate with you to implement change