How To Know When You Need Sales Consulting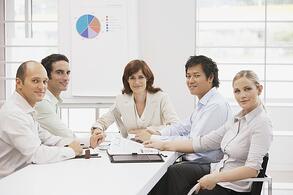 Organizations of all shapes, sizes and industries need guidance and training in generating and closing sales. Sales consultants promote and sell products or services to clients and customers. Ensuring adequate training of these consultants is imperative to an organizations success, as they are the liaison between that organization and clients. Excellent sales consultants maintain contacts and build lasting relationships based on trust and integrity.
How do you know when it's time to bring in outside expertise?
Here are some situations in which an association could profit from a fresh take and added intellectual capital. We've come up with three most common dilemmas faced by our clients.
Dilemma #1 – The One Man Show
As a new company starts out, the owner may act as the sales manager, marketing director and lone salesperson all in one. This may work as long as the sales volume remains at an attainable level. As the company begins to grow, so do the responsibilities and the need for additional people to handle these specialized jobs. Before long, business owners find themselves in the role of the company pitchman but lack true sales experience. This leaves owners little time to focus on other aspects of running the business.
Solution - Build and Manage a Sales Team
If you want to build a strong business, you're eventually going to have to hand over the sales reins to a sales team. Accepting the need for this team is the first part to the challenge. Going about hiring and managing a sales team is the second. This is one of the most common dilemmas faced by sales consulting firms.
Sales training consultants can play an instrumental role in working closely with you to help define and develop desirable sales processes and practices, measure results and ensure there's an acceptable return on investment and train your sales team on the best practices for successful selling. A key sales consulting training tool is a mapped out guide of the sales operations. Sales Consulting solutions are customized and geared to assess your current sales forecast and build on your strengths.
This begins with a thorough analysis of the sales department's structure, processes and procedures.
The resulting document should outline following:
The method in which the company makes money
Defining the objectives for a sales compensation plan
Determine the type, quantity and purpose of hiring new salespeople
Maximize Budget and sales strategies that impact your bottom line
Lay out of a variety of customer scenarios and ways to approach a sale
Dilemma #2 – The Times They Are a-Changin'
Here, we have a full-force sales team. All team members have a defined time line of what they are to accomplish, an idea of what success looks like and how to measure it. Sounds simple right? There's a dilemma, however. Your team is not prepared for an important change initiative that lingers ahead.
Sales operations need restructuring for many reasons. Maybe your cost model needs changing to combat increased competition, or maybe you are moving from a product to a solution focus? Perhaps your sales team isn't working at their most optimal level and you need to make some fundamental changes to improve performance? Perhaps your sales team is expanding as a result of a recent merger or acquisition? (For tips on how to properly manage your workforce during a merger or acquisition, view our The Value of Management Training Consultants: Mergers and Acquisitions blog posting). Whatever the change initiative may be, the impact of implementing the change correctly can be significant and long lasting.
Solution – Sales Force Restructuring
Sales force restructuring is a common challenge faced by most organizations. Change initiative expertise and solutions provided by sales training consultants can be of tremendous help to ensure that the change results in the utmost positive impact for your company. In preparing for significant changes to your sales force, sales training consultants create what is referred to as an implementation plan.
Among other important topics, the final implementation plan will include the following components:
Change Design Team
Document of the cause, impact and need for the change
Preliminary vision for the change
Preliminary Strategy and Action Plan
Identification of measures of success
Communication strategy
Training strategy
Dilemma #3 – Technology Blunder
In today's business environment, it's not uncommon for an organization to have a company-wide customer relationship management (CRM) software, such as Microsoft CRM or SalesForce. CRM is a strategy that allows companies to manage and sustain their customer database, sales leads, and accounts. Too often, employees are thrown into the new software with insufficient training and guidance. Over time, only a small percentage of the software capabilities are exploited. The CRM software eventually becomes a data storage unit, as most employee efforts are put towards updating prospect/client information. Efforts remain stagnant and sales opportunities are missed.
Solution – Optimize your CRM Sales Knowledge
Proper CRM sales training is your quickest route to success. Research undertaken by a technology firm specializing in sales CRM software reported that customers who were trained properly had 52% higher user adoption rates and 132% increased sales pipeline.
CRM software management and training is among the services provided by sales training consultants. To ensure you fully maximize your CRM investment, it is wise to seriously consider seeking a professional sales consulting team to do the leg-work. Proper implementation of company-wide CRM software will help you track your company activities and efforts as they relate to the bottom line. CRM training may enable a greater knowledge by all employees, so that the administrative and customer relation process can be smoother.
What are some of the benefits of using CRM software and proper training?
Superior customer satisfaction
Increases the marketing effectiveness
Creates sales opportunity
Transparent sharing of information
Increases the performance rate