Topics for your Customer Success Training Program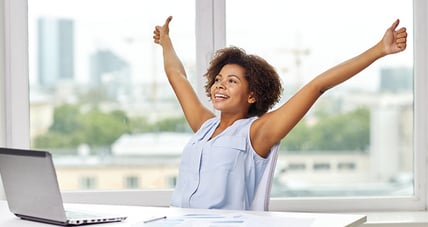 The role of a customer success manager, or customer success teams, is a valuable asset to any company. By upskilling customer service employees up to customer success representatives, you'll ensure short and long-term growth for your company.
What are the benefits of customer success training?
As a whole, your customer success team or customer service employees are the face of your company. They connect with your customers to strengthen relationships, demonstrate company value, and facilitate growth. If your reps haven't mastered the skills it takes to keep your customers happy, you'll lose your clients and have self-doubting employees. That's a recipe for failure.

So, what are the benefits of sales and service training?
Stronger Brand
Your brand is one of your company's most valuable assets. Without a strong brand position, you'll blend in with every other business on the market. By implementing a customer success team and investing in high-quality sales and service training, your customer experience will skyrocket. In turn, this develops a strong brand position.
Customer Retention
Once you have a higher brand position, you'll be able to retain customers that you weren't able to before. By having a proactive customer success team, you'll eliminate potential client issues and reduce your company's turnover rate. These benefits then lead to the biggest goal: increased revenue.
Increased Revenue
A strong brand and better customer retention will, of course, lead to increased revenue. It costs more money to attract brand new customers than it does to retain existing ones. Plus, your top customers are more likely to spend more when they're happy with their experience. Who keeps them satisfied? Your customer success team!
What should be included in Customer Success Training?
There's a lot to consider when you decide to level up your employees with sales and service training. What kind of program should you use? Are there certain skills that should take precedence over others? These eight skills and personality traits are essential when building a customer success training program.
Active Listening
The first and foremost skill every customer success rep needs to have is active listening. To fully understand customer problems and needs, customer service employees will benefit greatly from this ability. To practice active listening, representatives need to comprehend what a customer says and repeat their words back to them. That way, customers feel heard and understood.
Critical Analysis
After listening and comprehending a customer's frustration or struggle, customer success reps need to identify the problem and understand why it's happening. To come to a solution, they also have to determine all the contributing factors around the issue, which takes a little digging. Most customers won't know or say the initial cause of the problem.
Problem-Solving
Good problem-solving skills are the next step. This ability goes together with the previous two skills. Without knowing how to solve a customer's problem, active listening and critical analysis don't take them far enough to fix an issue.

Upon performing a critical analysis to identify a customer's problem, reps need to determine effective and efficient solutions. Overcoming customer issues is the sole purpose of your success team. The better that your customer success team does, the better your buyers will feel and do.
Data Integration
One skill that you might not immediately consider is data integration. When customer success teams can combine client data from multiple sources, the solution process is more efficient.

Reps need to be an expert on whatever software platforms they're using so they have quick access to customer information. Consider software or technology user adoption as a step in the training program. That way, the solution or sales process isn't just a one-size-fits-all script. Good customer success reps need to have personal conversations with clients and answer any account questions they have.
Emotional Intelligence
Empathy is a necessary skill for any customer-focused position. A rep's ability to understand what a customer values and how to approach a conversation with them are essential. For example, employees need to recognize when customers are frustrated and appropriately intervene before they become irate.

Without emotional intelligence, no customer service employee can have a meaningful conversation with customers. Reps need to understand customer attitudes, how they perceive their problems, and how they feel about certain progress milestones.
Organization
Organization skills don't just refer to organizing physical spaces. It's also a mental skill. Reps need to have an organized thought process and communication plan to get from a problem to a solution efficiently. Time management is also essential, especially for companies with high customer demands.

On the flip side, reps need to keep client data organized as well. Working knowledge of CRM systems and the capability to keep them de-cluttered are necessary. Without these combined organizational skills, the quality of help a rep can offer suffers greatly.
Persistence
Persistence is a leading attribute of a customer success rep. Handling frustrations and offering one's mental energy all day isn't for the faint of heart!


Patience
Customer success reps need patience. Every company has clients that are tough to handle. Customer success reps require level-headedness to help their customers without getting visibly frustrated.

In addition, the persistence to find a solution in difficult situations requires employees to have the patience to do so. Customers know when their customer service rep is frustrated or unsure of themselves. Your team members must exude confidence, patience, and determination to feel like they're in good hands.
Want to get started with your own Sales and Service Training program, but unsure where or how to begin?
Get started with our FREE download "Customer Service Training Needs Analysis Tool"