The Top 7 Benefits of Virtual Instructor Led Training (ViLT)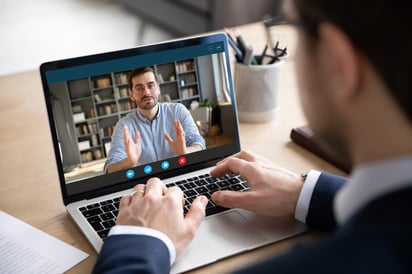 Modern technologies make virtual training easier, cheaper, and as effective as in-classroom training. Yet distance learning is still a growing industry and as such, some of its benefits aren't as widely known as they could be.
We're here to help make those benefits a little more clear. We're experts in distance learning and want to share the key learning advantages of the virtual classroom with our prospective clients.
Whatever you need to teach your employees, whenever you need to do it, virtual training can be the way to go. Ready to learn more about how virtual training can help to improve your business? Then keep reading!
1. Additional Flexibility
One of the fantastic benefits of online classes is how flexible they are. Instead of having to get all of your employees in a classroom, you can carry out virtual training no matter where you or your employees are. Employees can study when they have time, so long as they complete the lessons within the required timeframe.
Forget having to get all your employees ready to start at the same time, too. You can make your classes open enrolment, letting your staff join whenever they need to.
Finally, virtual training also gives employees more time to get to grips with the information that you've given them. Virtual training can be carried out over a matter of months, instead of a string of successive days, as there's no need to book out a classroom. This also means that they have more time to ask questions and get help if they need it.
2. Students Can Study from Anywhere
The coronavirus pandemic has made working from home essential across many key industries. If you were stuck with traditional training methods, this would jeopardize their learning. During a lockdown, students wouldn't be able to come into the classroom.
Yet if you're using virtual training, you can still keep your employees up to speed. Studying can be done from home, as can assessments.
This has huge benefits for other, more usual times too. If an employee is sick and misses a traditional class, they could fall behind the rest of your employees and potentially fail the course. Use a virtual classroom set up, and they can keep training while they recover at home.
3. Virtual Training is Cheaper
Keeping an eye on costs is an essential part of running a business. If you need to book out a classroom for weeks at a time, hire a specialist to come in and teach your staff, or even fly the staff out to a training center elsewhere in the country, that's going to put a big dent in your finances.
Virtual training doesn't require any special equipment nor does it require relocation. This means that running a virtual training program can cut down on costs quite significantly. Other savings that can be made thanks to virtual training include:
Less time off work due to shorter lessons over a longer period

More students which cuts the cost per person

No hospitality costs from a training center
4. Students Can Get Feedback Right Away
Attendance is only one part of training. The most important part of any course is comprehension. Yet in a traditional training environment, the teacher would need to take tests away, mark them, and return them at the next session.
With virtual training, you can set up tests and even small exams that your employees can take whenever they need to. You can set up these tests to return feedback to the students immediately. This means that they can start improving any weaker areas right away, without wasting that precious time between lessons.
5. Virtual Training Helps Employees Retain Knowledge
Think about all the times that you've spent in a traditional classroom environment and left not understanding the material. You could have taken all the notes that you can, but still struggle with retaining the information that you've been taught. No matter how smart you are, it can happen.
When you study in a virtual class, you don't have this problem. Virtual lessons can be repeated and re-studied at any time. If employees don't understand something the first time, they can take another look at the class and review any areas of weaker understanding in moments.
6. Virtual Classes Enable Better Communication
Virtual classes don't mean that there's no communication between students. In fact, it can often make student communication far easier. For instance, you could set up a discussion board and require your trainees to contribute a post to the board every week, offering up any ideas and questions they may have.
There's no time limit on these discussions, either. If your students need a little more time to get their heads around the material, the end of a class doesn't mean they can't talk to other students. This extra time to formulate questions and discussions gives rise to better communication and better results.
7. Improved Technical Skills
Virtual training is a growing industry and it isn't going away anytime soon. This means that using virtual training gives your employees a huge advantage for future training sessions.
Virtual training software teaches other transferable skills, too. IT skills are one of the most important areas for employees to have and these skills aren't nurtured in a traditional classroom environment. If you employ a virtual training company to set up a virtual classroom and offer technical support to you and your employees, you will bolster their computer skills.
Ready to Start Training Your Employees More Effectively?
We've shown you how virtual training can help you and your employees learn new skills more effectively. We're experts in virtual training and can help to develop courses tailored to your company's unique needs. You can learn more about our virtual classrooms here. Download our Virtual Classroom Design Best Practices.

If you've got any questions about us or our services, then please don't hesitate to get in touch. We'd be very happy to hear from you.