Reskilling Current Employees for Future Workforce Needs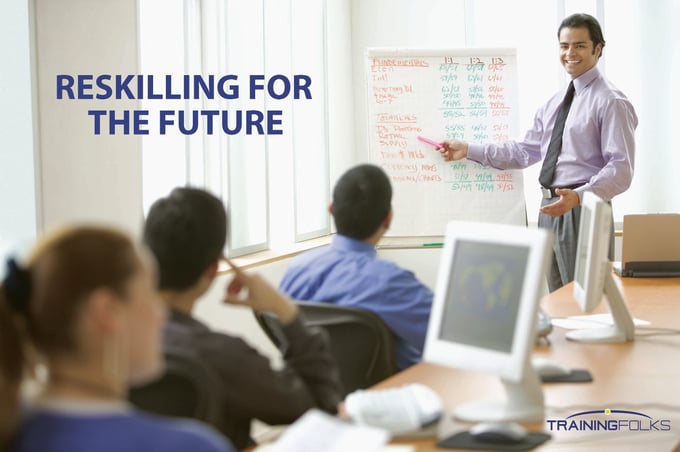 Changes in the workforce such as the introduction of new technologies, a focus on work-life balance, and the unique work styles and learning profiles of Millennials are heavily influencing communication, training and overall workplace culture. To remain competitive, it is important for successful organizations to evaluate the skills and knowledge of their current employees to ensure they are well-trained for future business requirements.
As companies integrate better data into their workforce planning, they are coming to recognize a growing disparity between the skills they need and the ones the existing workforce actually has. It is now a corporate imperative to plan strategically several years ahead to determine the skills that employees will need in the future.
"Reskilling" is a process by which employees learn new skills to do a different job or to keep up with the changing needs of their current job, and continue to contribute to the success of the company moving forward.
In many cases, new technologies are coming online that will disrupt traditional workplace positions. These also affect the ways in which employees learn and consume content.
In order to effectively manage change in your organization and provide your employees with the training they need, organizations can reconsider their current training and development programs and gear them towards reskilling.
Download this free overview of "3 Key Steps to Reskilling Your Workforce" from TrainingFolks today.
Reskilling and change management
When upgrading a system, for example, integrating your customer relationship management system (CRM) with your financial, inventory and distribution systems, your company will spend a lot of time analyzing the business requirements and planning the project. To ensure the project is successful, your employees need to understand how these changes will benefit them in their daily jobs, as well as feel comfortable using the new system functionality. Training is often an afterthought, which is why reskilling should be planned as part of any technology project.
Have your Instructional Designer review how these changes will impact your existing training program to determine the updates required based on the new system. If the changes are extensive, it may be necessary to create a brand new training program. You may also want to consider the ways the training is delivered and investigate different methods that may enhance learning and retention.
Today's learning technologies offer a number of innovative approaches to developing skills that may not have been available in the past. The key to ensuring your company not only continues to survive, but also grows and thrives in the new economy is to recognize there have been fundamental changes. With those changes, it is critical to take a careful look at your employees' skill sets, assess the skill gaps, and quickly move to equip them with new skills to excel in a new economic climate rich with opportunities.