KEEPING EMPLOYEES ON BOARD WITH EFFECTIVE ONBOARDING
YOUR CORPORATE TRAINING COMPANY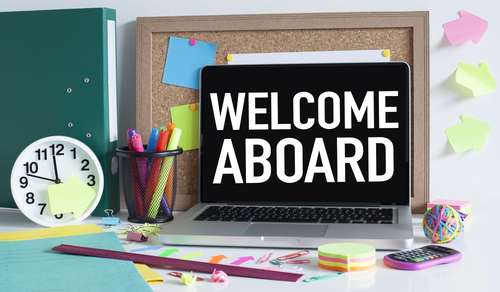 Employee onboarding continues to be a major challenge for organizations big and small.
How do you ensure that all aspects of a new hire's journey leading up to their first day and beyond with your organization is a good one?
The first step is to have a sound new hire onboarding program in place, that the entire company can get behind. Bringing someone on board is not a one step process nor does it only involve HR. A great onboarding experience is had when the entire team is part of it from senior leaders to management and coworkers as well.
Another key factor to keep in mind is that training is not the same as onboarding. You're going to need to train up new hires for their roles as well as have compliance training requirements depending on your industry. This is not onboarding!
Onboarding refers to integrating a new hire successfully into their new role within the organization.
Here are some important areas to consider.
ACCESS
When you are new to an organization, you don't want to feel alienated or out of place. Leaving a new hire in reception while someone scrambles to collect them for example is a great way to fail at onboarding. Providing a great experience with regards to access includes having their usernames and temporary passwords for all required programs ready to go. Ensuring that they have a desk with the hardware they need to do their job instead of spending half the day waiting for IT to come to them is another common pitfall. Giving them an employee pass card so that they aren't left outside if they leave for lunch or must step outside of the department to use the bathroom (how embarrassing!) is another must do. Helping new hires to feel like they belong in the actual building, at their desk and in their role is a huge part of successful day 1 onboarding.
GETTING SOCIAL
No one likes to be the new kid on the block, so help your new hires socialize from day 1. Arranging a lunch on their first day with their manager and or team is a great way to help them to break the ice. Also, be sure to send out an email announcing the new hire to the company so that they know who the new face is! Where possible, assign a team member to be their guide for the first few days on the job. They can walk them through the facility, share local coffee spots, tell them where everyone goes for lunch and give them the lay of the land. It also provides them with a person to talk to right off the bat.
JUMP START
How many of you recall a position that you started at where you literally spent half your day 'reading about the company' and 'surfing the intranet'? Boring. Also, a great way to quickly disengage a new hire from the organization. Instead of finding useless tasks for the new hire to complete during their first few days with the organization, have a game plan in place to help them get a jump start in their new role. Schedule them in relevant meetings to help them understand the culture and lingo of the company. Set them up with a list of things that they can start working on which in turn will help them learn about the company further. You want the new hire to feel useful and productive in order to stay with you and also come back the next day!
If you're still developing your new hire onboarding program or are looking to re asses against best practices, download our free Employee Onboarding Handbook today.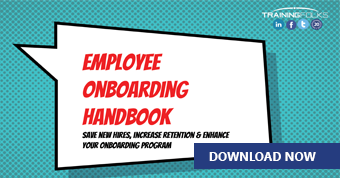 It will walk you through key areas for consideration from day 1 and on.
For further assistance with creating a winning new hire onboarding program contact the corporate training experts at TrainingFolks today.