How a Contract Corporate Instructor Can Improve Your
Global Training Program
Distributed employees are becoming more common as remote work environments gain popularity and companies globalize. Whether or not your company has physical locations abroad, training a global workforce is likely a new reality. However, onboarding and training global employees is a monumental task.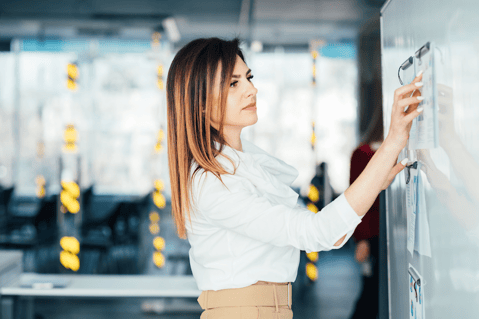 Training programs must accommodate linguistic and cultural differences in the locale they service, not to mention the logistics of recruiting, onboarding, and managing instructors across different time zones. Many global companies also struggle to maintain consistency in their training programs and effectively translate the core goals and values of their organization across different regions.



In these circumstances, your in-house training department might not have the resources or expertise to pull off a global training strategy successfully. This is why using third-party expertise is often crucial for global companies. Here are three ways your company can benefit from contracting a corporate instructor partner.


1. Alleviate your internal resources
Organizations that rely on internal training departments to manage global teams are often overwhelmed by the requirements of distributed learning programs. If your internal trainers are required to travel or assume the demands of more regional programs, their core tasks may suffer. Hiring new, regional trainers also takes a significant amount of time and resources—efforts that may still fail in today's competitive hiring market and mass resignation trend.
By partnering with a training services provider, organizations can minimize a significant amount of internal resources. These providers can offer corporate instructors that are already skilled in the learning topics, languages, and cultural considerations required, saving your organization the time and money needed to match these skills internally. A reputable services provider also ensures that contract trainers align with your organization's mission and culture, providing instruction that closely resembles an internal trainer. These services also manage the logistics of a global training network, saving you additional long-term resources.


2. Improve the quality of your training program
Even if your internal learning department excels with local workforces, they may struggle to translate learning objectives in unfamiliar regions. Effective trainers must understand the cultural nuances of the area in which they are instructing and avoid misunderstandings. They must also effectively translate learning topics into the relevant language, which may be challenging for non-fluent speakers—especially when technical jargon or concepts must be communicated. A corporate instructor that isn't versed in local considerations can create learning gaps that lead to mistakes, reduced productivity, and disjointed company values.
Having a training service provider that is able to manage a global network of trainers is critical. This makes it easier to find a contract trainer that has relevant subject matter expertise while understanding the culture and language of your target training group. These skills improve the quality of your training program, avoiding communication breakdowns that can cause misinformed and under-skilled employees.


3. Adapt quickly to new project demands and timelines
Even when demand is stable, addressing the learning requirements of a global team of instructors can be incredibly challenging for an internal training department. If your company has a sudden or considerable spike in training demand, outsourcing corporate training support might be your only option to train employees. This is often the case when organizations adopt new technologies or software, merge with another company, or introduce a new product or service, and need to impart new knowledge within a matter of weeks or months.
One of the benefits of contracting corporate instructors is their scalability and timeline flexibility. Corporate training service providers specialize in teaching employees within condensed periods, eliminating the resource-intensive process of recruiting and hiring internal trainers to meet increased demand. As an on-demand service, contracting corporate instructors can be more cost-effective and flexible than permanent employees in the long term.


In summary
Companies rely on skilled employees and consistent, high-quality goods and services to stay successful. This can't be accomplished without a well-trained workforce, which can be incredibly challenging when your employees are globally distributed. One option is to grow or upskill your internal learning department to address learning requirements, languages, and cultural considerations across different regions.
However, if your goal is to optimize your internal resources, easily scale learning initiatives, and deliver consistent, high-quality training, partnering with a training services provider is likely a better solution.
If you found this blog helpful and want to learn more,
be sure to download our FREE offer:
'Create your winning business case for hiring contract training professionals to support your new technology rollout'
Don't miss out on this opportunity to get this valuable tool.
Download now!