TIPS FROM YOUR TRAINING COMPANY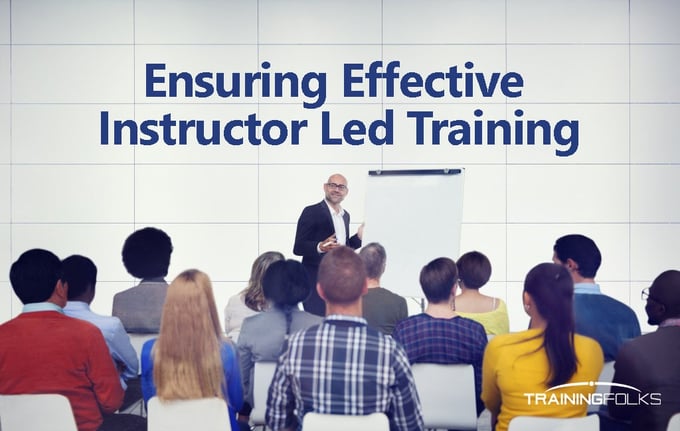 With the number of changes that the workforce continues to experience, the question around the effectiveness of Instructor Led Training courses (ILT) has become something to consider for Learning Leaders.
Millennials for example are looking for shorter format training as with microlearning as well as more technology based delivery seen with gamification.
Remote workforces can make physical attendance challenging and expensive for the organization to accommodate.
And the growing demand for work-life balance makes hours in a day even more valuable, decreasing the enthusiasm of spending hours at a time in a closed classroom setting. The fact is that even with all of these factors, organizations are using ILT and are showing no signs of slowing down. Surveys have shown that almost 50% of training hours were delivered by instructors in classroom settings in 2015 and this is not projected to decrease by any significant amount for 2017.1
With all of this in mind, Learning Leaders must focus on ensuring the highest level of effectiveness with their ILT courses. Here are some key tips for success used by our experienced Instructional Designers at TrainingFolks. They take into consideration planning, design, development and delivery of your next initiative.
Taking into consideration the audience, the material, the skills gap, the budget and time
Plan For Your Audience
Clearly define who your learning audience consists of and plan your content accordingly with regards to length, location, medium, resources and overall style of delivery.
Are your learners senior executives, a specific department, Millennials, remote workers? Each requires a slightly different treatment with regards to training design.
Enable Continuous Learning
Provide your learners with additional resources and content that will supplement what they have learned in class. These can include videos, additional presentations, websites or articles which learners can refer to and build on to further increase their knowledge on the subject.
Provide Reminders
Employees are busy and depending on their role and time of year, some are busier than others. Creating a schedule that includes an iCalendar invite plus consistent reminders leading up to the date of training can help ensure the audience actually attends! Keep the reminders helpful as well as useful by attaching some tips, articles or links out to resources that cover the subject matter of your upcoming course as well.
Make it Engaging
Sometimes easier said than done! When working with large or small groups, interacting and engaging with the audience increases the success rate of effective learning. The best PowerPoint presentation you've ever created can be left flat when instructors breeze through them verbatim. Be creative and include team exercises, goals at different intervals of your session and encourage discussion and questions.
Make it Count
Longer sessions are not necessarily the most effective. With shortened attention spans, numerous digital distractions and overall stress of project deadlines looming, learners will appreciate succinct delivery of consent and allow them to retain more information overall. When building out the course, drive all material to the core subject matter and include only what will provide actual value to your learners.
For more tips on your corporate training needs get in touch with your global corporate training professionals at TrainingFolks today!
1https://www.cogentys.com/blog/is-instructor-led-training-relevant