Employee Onboarding: Returning from Mat Leave
TIPS FROM YOUR CORPORATE TRAINING EXPERTS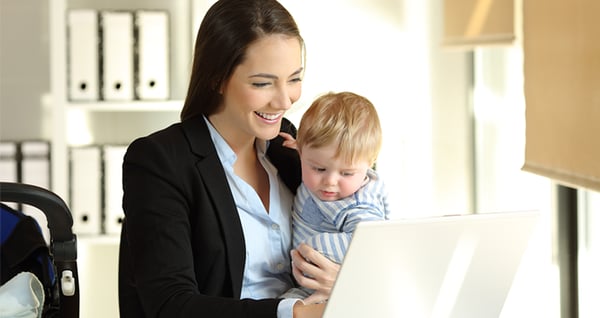 I recently returned to work from maternity leave and wow, it was a huge adjustment!
Trying to refocus on KPIs, international communication and general adult conversation was a huge change from focusing 100% of my energy on caring for my son for almost a year. Fortunately, my employer had developed an excellent return to work plan.
I've known many new moms and dads returning to work that were not as fortunate as me. In addition to developing a new routine, functioning on less sleep and concerns about leaving the baby they were left to try and re integrate themselves into their roles without a formal process in place.
I know that for me, one of the most helpful adjustments was more flexibility with regards to working arrangements. The company made this option available to me and my boss did a great job of setting up mutual expectations as well as communication requirements to ensure that the rest of the team was in the loop.
Depending on your organization's policies some or all the following are great ways to offer the same to your returning employees.
Remote work – Working from home using mobile devices and cloud technologies. This can be an ongoing arrangement or when parents need to care for sick children or attend doctor's appointments or their children's events.
Flex-time – Instead of the standard 9-5, allowing employees to start and end their days at different times. This can help parents coordinate their schedules to drop off or pick up children and attend appointments.
4-day work week – Changing an employees schedule so they can put in their standard hours in fewer days. This can help save on child care costs.
Job sharing – This is an arrangement in which two employees work part-time hours to complete the work of one full-time job.
Other benefits of the re onboarding addressed things like establishing a clear 30-60-90 day outline for goals, re-training on procedures that were most pertinent to my role, and setting up regular meetings for the first few months with my boss as well as relevant team members until I got back into the full swing of things.
With so many things up in the air at home, having a clear path, all the tools I needed, access to information required for me to do my job well and organizational support were critical to me making it this far!
If your company doesn't currently have an onboarding program for new parents it may be time to create a program. Start by downloading Onboarding: The Sequel. Welcoming Employees Back After Parental Leave.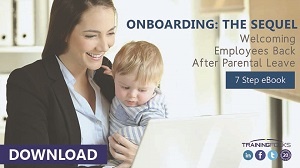 This complimentary eBook outlines seven key areas for a successful program and includes a printable checklist to reference for your returning employees. Help your employees quickly get back up to speed and offer them the support they need during this transitional time.
If keeping your returning team members on board after their new baby is important to the organization, the right re onboarding is a critical step for those coming back to the workplace.
For further assistance with developing a specific onboarding program for employees returning after parental leave, contact the corporate training experts at TrainingFolks.